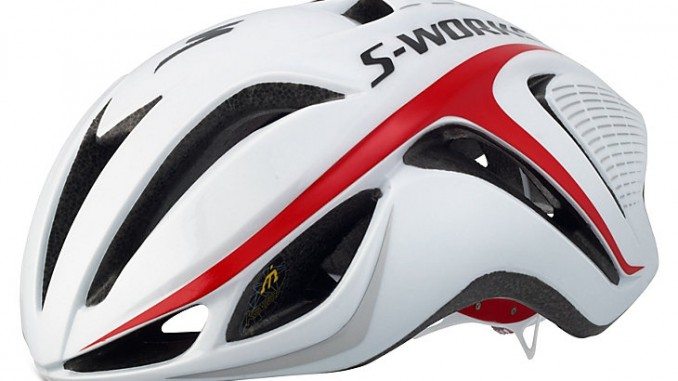 Evie Stevens, Mark Cavendish, and Tom Boonen all have something in common–they've been winning lately wearing Specialized's newest aero road helmet, the S-Works Evade. Specialized will officially release this product to the public this summer, and for the serious roadie or triathlete who could use several seconds in advantage–46 seconds to be exact over about 25 miles–this may be a great choice. Considering that's just over 3 minutes over the course of an Ironman, you might go for the new Evade if an aero advantage matters to you. Or perhaps your next stage race features a fast field–get set up right for your sprint finish!
How it Came to Be: Taking a cue from their own MacLaren TT helmet, Specialized set out to translate the aero advantage of the pure time trial lid into a road-worthy, highly vented version that maintained its aero properties. The result, a product that looks closer to a traditional road helmet without the road helmet drag. Although the Evade still looks slightly awkward, it's a huge improvement in looks over *cough* the Giro Air Attack. Plus, Specialized claims it offers comparable ventilation and light weight to a traditional road helmet.
According to Specialized, "It has nearly the same aero advantages as a TT helmet, with equally as efficient air cooling and ventilation as our road helmets. The super lightweight design ensures that it's just as comfortable and quiet in the wind as well. Oh, and it looks like a proper cycling helmet, too."
Features:
Specialized sticks with their "patented Kevlar-reinforced Inner Matrix" that offers riders extra weight shaving while still maintaining its strength and protection properties
Their 4th Dimension Cooling System gives riders internal channels, venting systems, and exhausting properties that keep you seriously cool–pulling the cool air in, and the hot air out. Something that's generally missing in aero helmets–especially considering it's quiet in the wind.
The Mindset fit system allows you to adjust height and tightness for the perfect fit with a simple dial. Plus, the Tri-Fix web splitter lets you adjust straps quickly and easily.
Since it's not officially released, I can't give you much more than a preview of the new helmet. But look for a not-so-distant future review with more in depth analysis of the new Specialized S-Works Evade. Due out July 30th, the aero boost will set you back about $250 and weighs around 260 grams–about 30 grams heavier than the Prevail.
For a better look at the styling, check out Specialized's website: http://www.specialized.com/us/en/news/latest-news/16284
What do you think? Worth the price tag? Gonna pick it up before your next race? Comment!