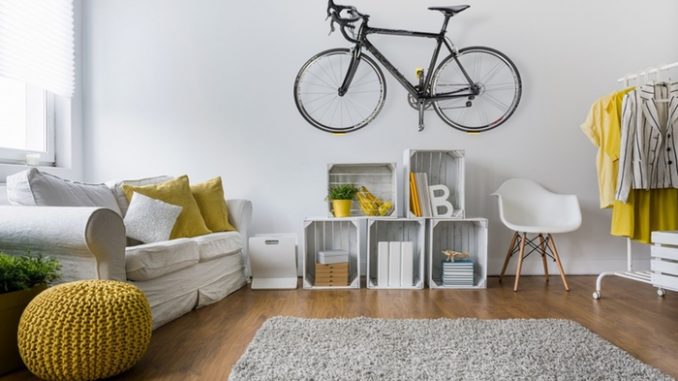 When we saw Cycloc last year at Interbike, they were showing off the coolest of minimalist bike mounts called the Hero. Our enthusiasm was quickly checked, when the subject of Speedplay pedals came up.
Not compatible.
So we wrote about the really cool Solo Bike Hanger instead. But the super simple design of the Hero continued to haunt.
Well, specter no more, Cycloc has just launched the Super Hero on Kickstarter with full Speedplay and a myriad of other pedal compatibilities. Apparently, Speedplay is a popular pedal (especially with our particularly die-hard editor-in-chief).
Cycloc Super Hero Kickstarter
The system consists of three basic pieces–one that holds your bike at the pedal and two wheel pads. The pads are each fixed with a single screw. They keep your wall clean, hold your bars in line, and prevent the crank from spinning.
The pedal support works to hold your bike securely. Add an insert for Speedplay or remove it for other styles. The coolest part of this is that none of these screws are visible–it's almost like the bike is floating on the wall.
The official Kickstarter campaign has just about a month left to go from this article's publishing, and has some Early Bird offers still available from $37.
Here's a blurb with more info from the folks at Cycloc:
"SUPER HERO is a low impact, wall mounted bike storage solution, enabling bikes to be displayed and stored, hung only from a pedal.
Developed in direct response to customer feedback and to compliment our exiting range of interior bike storage products. SUPER HERO allows bikes to be integrated with interiors and precious space to be maximised. Booby-trapped hallways, with the consequence of damaged walls and bikes, become a thing of the past."