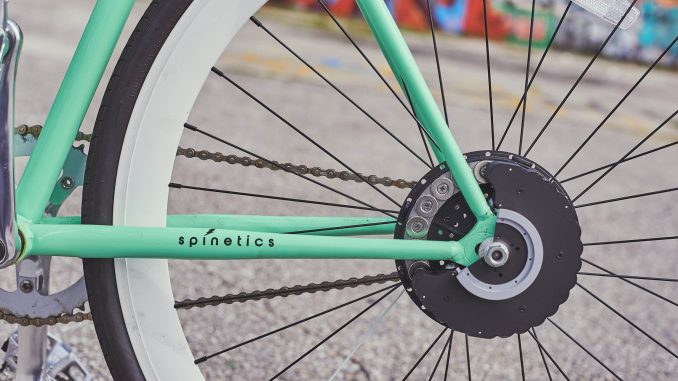 If you've ever been on a ride and noticed that your cell phone's battery power is alarmingly low, you'll be interested in the Cydekick Pro, from a Miami-based company called Spinetics, currently in its crowdsourcing phase. It's an externally mounted rear-hub dynamo that uses magnets and the energy from your spinning rear wheel to generate electricity. This power runs along a cable, zip-tied to your frame, to a high-intensity LED headlight that also serves as a USB charger for your phone or other device.
Hub-Based Power . . . Except You're Using Those Watts
Spinetics's marketing materials claims the hub unit is friction-free, but there will a little drag: it would be more accurate to say "very low friction." Because the unit uses spacers and magnets, nothing touches your bike, reducing any rubbing and keeping contact to a minimum. The company claims that anyone who can assemble IKEA furniture can install the device. Judging by the cabinet I put together last weekend, I'm not sure that bolsters my confidence, but Spinetics notes that the only necessary tools are a hex wrench and some zip-ties–both of which I feel comfortable using.
One quick note for those who have jumped on the disc brake trend: the Cydekick won't work on disc-brake-equipped bikes. But for those of you out there touring across the country or circling the Arctic, this little power station could mean a lot less panic and a little more connectivity with loved ones or fitness apps.
What makes the Cydekick different from other hub generators? Many are part of a hub's internals, so if you want to go the power-while-you pedal route you'll need to spring for a new wheel that has the technology. And the Cydekick is removable, so if you have a need to chuck its one-plus-pound weight you can do so easily. Spinetics doesn't yet have data on how much power is generated by the hub, but even if it's a relatively small amount, you'll still be charging your phone as you ride, at least a little.
Get Info on Cydekick's Crowdfunding Future
Spinetics is re-starting its crowdfunding push soon; its attempt in 2015, priced at $250 per unit, fell short of the mark. If you think you'd like to try the Cydekick in the future, head to www.spineticsinc.com to sign up for updates and information, and to find out how you can be one of the first to get the unit.