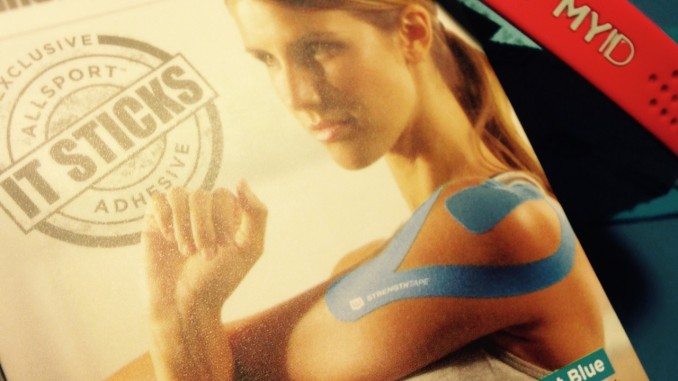 Although I don't normally put two reviews on the same page, I couldn't help myself this time. The kind people at ENDEVR hooked me up with their super slick ID and their street-cred raising kinesiology tape to help me look doubly legit–no matter how easy the training day. Combined, you'll be set to hit the road or pool knowing that your injuries are supported, and you're taking responsibility for your own safety.
MyID Sport Review
When I was a kid, my mom always talked about getting me an emergency medical bracelet. You know, like the metal and chain kind they used to advertise on TV. Of course, I was mortified at the thought of wearing around a clunky piece of hospital jewelry that advertised to all my friends exactly how allergic to Penicillin I was.  I mean, it's only a stupid allergy to a medication that could totally kill me. But whatever. Being cool was all about ignoring uncool things like allergies.
Luckily for me, the folks at ENDEVR have helped turn the lame into the awesome with their lightweight, stylish, and tough MyID Sport. How would I know that older and wiser me would actually be excited to wear a bracelet that advertised not only my love for endurance sport, but also my concern that, in case of emergency, no one would unknowingly send me into anaphylaxis shock.
The Specs

Price: $19.99 (comes with a one-year subscription to the premium profile)
Colors: Available in 15 color combinations, including special Ironman and RAGNAR versions. Tested in coral red/baby blue.
Material: Waterproof Silicone
Information Encryption: 256 Bit SHA-2 Secure Hash Algorithms (which sounds pretty serious to me)
So How Does This Whole ID Thing Work?
Every bracelet comes with its own unique ID and pin number that connects to your online profile. First responders see the medical symbol on the outside of the bracelet, and simply flip it inside-out to reach your information. They can scan a QR code with a smart phone to bring up your profile instantly; they can dial the 24/7 call center; or they can head to myidband.com to access your profile with the ID and Pin# listed on the band.
Why is this so cool? Since you have to flip the band over in order to read the specific numbers on the inside or scan the QR code, it keeps snoopers (otherwise known as creepers) from spotting your information in passing. In fact, if your band goes missing or *gasp* someone steals it, you can immediately lock your profile straight from your phone.
The Online Profile
Strangely, I wore the band around for a few weeks before I actually set up my profile. I would just put it on, start doing my thing, and then write myself another note to set up the profile. Take my advice, though, and set up yours as you're unboxing the bracelet. Once I did get around to putting in all my information, it took mere minutes. ENDEVR has streamlined the process to get you signed up quickly, and link your ID immediately.
There are two options for profiles, but the ID comes with a full year of the premium version for free. After that year, you move to the free basic profile for life, which includes unlimited linking to all your bracelets plus 1 medical condition and 1 emergency contact. This option seems like a fine idea as long as your emergency contact person is well versed in your medical history and insurance information. Otherwise, keeping the premium profile is probably the way to go here. With the first year included for free, yearly subscriptions are actually quite inexpensive:
$10 for 1 year
$30 for 5 years
$80 for 15 years.
The online profile is super quick and easy to update, so paying for a few years up front is really not a bad idea. Plus, you have twelve months to test it out before you need to decide. With the premium version, you can enter pretty much any information you think might be important for a first responder to know. Medical conditions, allergies, insurance numbers, unlimited emergency contacts, blood type, and the list keeps going–in fact, you can add any information to your profile that you'd like via the miscellaneous boxes.
My Initial Reaction
I feel just a little extra awesome wearing MyID Sport. I like the color, I like the security of knowing that a first responder will know a little something about which hospital my HMO wants me to go to, and I like the ultimate durability of the all-silicone band. At first glance, I thought the numbers inside the band would rub off easily, but after several weeks of wearing it pretty much 24/7, I can attest to its toughness.
A Few of My Favorite Features
Material: As one who has worn versions of an ID with metal clasps and such, I have to say I really like the metal-free incarnation of the Sport. While I think the sleek look of metal has its definite merits, I've noticed that I often take my other band off in order to do things like type on the computer. I'm not gonna say I'm forgetful, but I couldn't tell you where my other bracelet is right now because the last time I saw it, I had taken it off to type on the computer. The Sport doesn't catch on anything. It doesn't scrape against metal. I can rest my wrists on the laptop and it's not uncomfortable. And, no, I haven't lost it yet.
Ion Tech: I was never really sure about the whole ion thing in the past. I wasn't a skeptic necessarily, but I just didn't bother to find out whether the stuff has scientific backing. At the risk of sounding unscientific, there's just something . . . groovy about the MyID Sport. It makes me feel better when I wear it. I smile even when I'm running (weird, right?) I have more energy. So all in my head or not, I think I'm a convert. In fact, even through some recent recovery when I was sidelined from all my favorite activities, I would put on the bracelet and my mood would change. Grumpiness turned to singing. Don't ask me how or why. But maybe it works?
Multiple Bands, One Profile: You know you've done it. You've totally worn your ID band to work or a fancy party. Black is always formal, right? So if you've got a few choices in bands, you can link them all to one profile. Update one and you're done. Then, no matter what color scheme you're matching, you'll always feel just a little more secure.
Final Verdict
The MyID Sport has completely won me over. I can wear the bracelet all day and all night. It's super durable, and I barely know I have it on half the time. The online profile is simple to keep updated. In fact, I had a hard time finding anything wrong with the bracelet. If you're looking for a colorful, inexpensive, and fuss-free ID, the Sport is the way to go.
StrengthTape Review
I crashed my bike recently. Naturally I, like any good cyclist, first checked my beloved Cervelo for signs of damage. Looked over the shifting, and the carbon, and the paint. Then, after the bike came up OK, I noticed that my right shoulder was throbbing quite badly. I had jammed it into a curb when I made a hard right turn to avoid the car that swooped into my path. Dang curb. At the time, I did what any other cyclist would do, I hopped back on the bike and rode the last few miles to my friend's house. A week later, I decided to shoot a WWII Springfield rifle–it kicked pretty hard. The next morning, I woke up unable to raise my arm. Yah, so, it did take me a while to get it checked out. But a little therapy later, and I've been using StrengthTape to support my shoulder ever since. Oh, and the hamstring I pulled too. Unrelated.
Why did I tell you that story? Because this kinesiology tape has kept me swimming and cycling and running without having to worry. What's better? I can apply it myself and look totally hardcore while I workout or race. Not to mention the awesome blue matches my ID Sport pretty well.
The Specs

Price: $19.99
Colors: 10 available–tested in light blue (though I believe the color varieties are merely for aesthetics)
Size: 5 Meter, Uncut Roll
Material: Latex-free, waterproof AllSport adhesive infused with IonTech (7 ion-producing minerals to enhance the tape's benefits)
How to Use
By now, you might be concerned that you'll have no idea how to apply StrengthTape. Well, they've taken the guesswork out of application with a series of video instructions for some of the most common injuries. Although you might want to enlist the help of a friend for difficult to reach areas, most of this can be done by yourself. And, with a little practice, you'll get pretty good at taping yourself up. As I mentioned before, I used it specifically on my hamstring and shoulder–both of which were slightly difficult to reach without help. The versatility here is slightly amazing. There's even a tutorial for using the tape to relieve an achy back during pregnancy.
What I Like
As someone who is nowhere near a medical professional, I found myself able to follow the instructional application videos without any trouble at all. And once you stick it down, it stays stuck. I usually wear a set of tape for about a week with no lifting, peeling, or loss of support.
Some Tips: I did realize that you need to really rub across the surface several times in order to fully activate the adhesive. If you don't do this, you may find it rolling up along the edges. If this happens, snipping off the rolled edges and rubbing through the surface again helps it to stay put.
Once it's on, you can swim in it, shower in it, hit the beach in it, do whatever you want in it. After you do get it wet, it's a good idea to pat it dry with a towel and avoid wiping it roughly.
Don't Just Tear it Off. Trust me.
Of course, the fact that it sticks is super important, but you might regret being in a hurry to take it off. I learned the very hard way why you should follow the removal instructions closely. Avoid giving yourself an unintentional waxing, and take the tape off carefully. My best advice? Hit the shower, thoroughly soak the tape, and rub some hair conditioner all over it. You'll find it slips off easily without any pain or unintended hair removal (for you guys out there, it's recommended that you trim any hair before applying the tape in order to make taking it off a little more comfortable).
My Final Thoughts
I just plain like this StrengthTape. It's tough, it lasts, and it promotes healing for those nagging injuries while it supports them. One roll should last quite a long time provided that you aren't planning to reapply daily. With its user-friendly instructions and the ability to make you look super legit, StrengthTape is a winner.
If you want to pick yourself up some StrengthTape or the MyID Sport, head over to ENDEVR's official website to look through their line and order from them directly or search for your local retail shop.