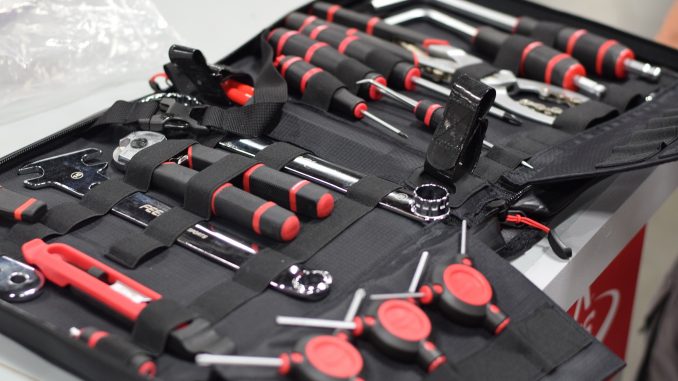 Feedback Sports has a custom take on tools with their newly available kits that go wherever you go. And judging by their take on chain whips (shown in the right side of the image below), we think they put in some serious R&D here. We caught up with the folks at Feedback Sports at Interbike 2016, and got a close up view of all their new tool kits (as well as their work stands and foldable trainer, but more on that later).

Feedback Sports Tool Kits
Filled with the unique take that we've come to expect from Feedback Sports, their new tools are just little different in design from the usual. These tools are meant for everyday users, shops, and the pros–forged and cast for durability with rubber grips that are large and coated to spare your hands. After testing them a bit at Interbike, it seems that Feedback has hit definitely done their homework here. The tools are comfortable and clever in their ergonomics.
The kits also come with a cool open design option that allows them to hang on a work stand for quick access, and without the tools popping off onto the floor. Pro mechanics dig this feature because they can use the strap to hand the kit off a car seat back. Definitely great for all those times we cyclists are fixing bikes while hanging out of a car window–makes for easy fixes at 45mph plus. You do that too, right?
While there are three new pre-assembled kits, you can also just grab individual tools without having to purchase the set. I would imagine that the chain whip and lockring tools should be really popular. The sets are available in three different configurations:
Team Edition Tool Kit:
Meant for the serious mechanic or one who likes to fix pretty much everything on his/her bike–especially at the $249 mark, probably more than most of you will want/need. But definitely for the constant wrencher or one who wants to get a full complement of tools in one shot.
Nineteen tools that cover 25 functions plus space for adding more. MSRP: $249
Tool Case
Fixed 3-Way TORX T25/27/30
Fixed 3-Way Hex 2/2.5/3mm
Fixed 3-Way Hex 4/5/6mm
L-Hex 8mm
L-Hex 10mm
#0 Phillips
#2 Phillips
6mm Flathead
Schrader Core Tool
Presta Core Tool
Valve Extender Wrench
Spoke Wrench
Chain Pin Press
Rotor Truing Tool
Crank Arm Cap Tool
Steel Core Tire Levers
Brake Pad Spreader
15mm Pedal Wrench
15mm Axle Nut Wrench
Bottom Bracket Wrench
Cassette Lockring Wrench
Cassette Pliers
Cable Cutter
Cable Crimper
Dual Sided Pick
Ride Prep Toolkit
Geared toward the majority of cyclists, the $129 price tag should appeal to a great deal more home mechanics. Here's what you get in the Ride Prep Toolkit:
Tool case included
Fixed 3-way TORX T25/27/30
Fixed 3-way Hex 2/2.5/3mm
Fixed 3-way Hex 4/5/6mm
L-Hex 8mm
#0 Phillips
Schrader core tool
Presta core tool
Valve extender wrench
Spoke wrench
Chain pin press
Rotor truing tool
Crank arm cap tool
Steel core tire levers
Brake pad spreader
15mm pedal wrench
15mm axle nut wrench

T-Handle: Tool Kit
At $129, this one has pretty much every hex and torx key you'll ever need in a cool pop-up case.
Tool case included
T25 TORX
6mm Hex
5mm Hex
4mm Hex
3mm Hex
2.5mm Hex
2mm Hex
All of these toolkits are available now direct from Feedback Sports, your LBS (mine is Art's Cyclery), and online retailers like Competitive Cyclist.