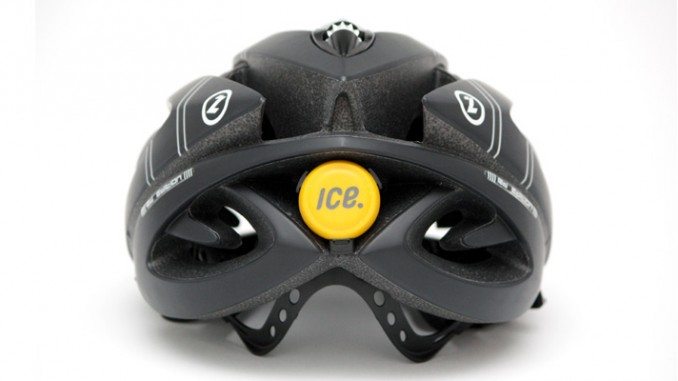 There's nothing like cycling. It's about freedom to ride. It's about passion for hammering the miles away. It's about blasting through the pain for a new personal best. It's about the unrivaled joy of buying stuff.
OK, just kidding. But there's always some cool new gadget you can throw on to make your ride just slightly more awesome. And if you're a triathlete, well, good luck not wanting any new gear for any of your three favorite sports. Over the years, perhaps the toughest training I've ever completed is keeping my pocketbook closed, but sometimes the best cure for gear envy is to simply buy your favorite stuff in the first place. If you've got limited finances, it's best not to waste time and money on something you're not going to love. To try and help you out, I'm counting down my top 5 favorite products for cycling and triathlon.
Here's Number Three!
The ICEdot Crash Sensor
I have to come clean on this one. I've never actually used this product before. But after spotting the ICEdot website on social media, I couldn't help but share this as a product I'm excited about. If you've read much of my blog, you've noticed I'm big into staying safe on the road–this product will give you and your loved ones some serious peace of mind when you're out riding alone.
The Cool Factor
ICEdot sticks or zip-ties to your helmet (any helmet), and reads impact data. Meaning that if you're in a crash, it will measure the severity of the fall, turn this into numbers, and automatically notify your pre-set contacts of how hard the crash was and exactly where you are. It does this by pairing to your iPhone (Android app soon to come) via ICEdot's app that grabs your GPS location and texts your pre-determined favorite people. The sensor affixes to your helmet, so you don't have to remember to snap it on.
If you're worried about setting the sensor off by accident (clever pun) you can set the sensitivity of the sensor to only read harder impacts. If it does record an impact, your phone will let out a loud alarm. This warning reminds you (with up to 2 minutes notice) that your contacts will soon be notified unless you disable the alarm before the time runs out. A great thing if you don't want everyone to know that you haven't quite mastered clipless pedals and stop signs.
Important Things to Keep in Mind
The ICEdot sensor's battery lasts for approximately 20 hours on a single charge. Which means, you'll need to remember to  recharge it. You might want to set yourself up with a reminder every three or four long rides to plug it in–or maybe follow your cyclocomputer charging session with an ICEdot charging session.
Cost: $149.00
At this price point, the ICEdot may be out of reach for some folks. But if you consider the advantage of this technology, it will probably be an easy sell on your Christmas/birthday list. The ICEdot sensor comes with a 1-year subscription to the monitoring service, and after that it will set you back about $10 per year–not too bad, especially if you're also using their ID bracelets or snap packs.
ICEdot's ID
Incidentally, ICEdot also makes products that complement the crash sensor. With several types of emergency identification dots, bands, and stickers, ICEdot covers several bases that work to keep you safe. Perhaps the smartest element of ICEdot's dots and stickers–you can stick them to your gear, so you won't forget them the next time you head out the door. Click here to view ICEdot's entire line of products.

Want to get your own ICEdot? Head over to their website, and pick one up (don't worry, no kickbacks are headed this way–I just think it's a pretty cool product).

If you're not sold yet on ICEdot's merits then no worries, but they do have a pretty humorous commercial starring none other than SLO-cal cyclist, Lucas Euser. Take a look: