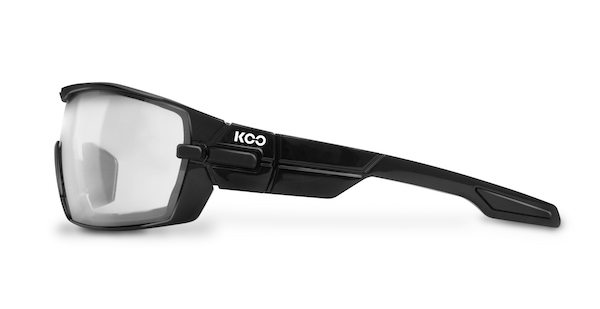 If there's something we like, it's puns. And Kask has a prime one for us here, but we're taking the high road and ignoring the obvious. We're Koo like that.
We plan to stop by the Kask booth this week at Interbike, where they'll also be launching new helmet colors and sunglasses. Read on, and keep watch on our Interbike coverage all week!
And, yes, we're bringing the scale with us.
KASK Launch New Brand KOO, Open Sunglasses
KOO, A name inspired by KASK Optics, is focusing initially on cycling eyewear, with further product categories to be announced. The first KOO collection is named 'Open' and is designed specifically to work seamlessly with KASK cycling helmets–good news if you've found trouble with compatibility between your beloved Mojito and your current shades.
The sunglasses are constructed of polycarbonate with each component 100% made in Italy. Attention to detail has been paramount with lenses manufactured by the renowned lens maker Zeiss. They are available in 12 different colorways so you can coordinate with your KASK helmet, bike and kit.
Kask designed Open with adjustability and clear lines of sight in mind. Which means these have some pretty cool features like folding pivots to store and fold with ease, and a soft rubber nose-pad with two adjustable positions for a customized fit, a smaller nose bridge will also come as standard in the packaging.
For ease of use, Open glasses also feature easily-removable, interchangeable lenses for year-round optimum vision when cycling. The design also includes an 'Airflow Active System' which means the lenses can be tilted at three different angles to adjust the position of the glasses on your face. Flexible temples should also improve the fitting without interfering with comfort.
If you're wanting to see this in action, check out the video below. It's dramatic, and awesome:
The sunglasses have been developed in collaboration with the Drapac Pro Continental team and Italian elite Under 23 Team Colpack who have excelled in 2016. Notable wins include Simone Consonni and Francesco Lamon achieving a new Italian record during the Team Pursuit at the Track World Championships, with Filippo Ganna qualifying with the fastest time and going on to take the win in the individual pursuit.
KASK sponsored athlete Jeremy Powers, who is the highest ranked Cyclocross Elite UCI Male in the United States will be racing Cross Vegas in his 'Open' glasses this year along with Matt Hanson who will be using them for the IronMan World Championships in Hawaii.
Availability & Color Options
KOO 'Open' sunglasses are designed to keep sun, salt, bugs and mud out of riders' eyes as well as give a comfortable, stylish finish at any level of ability. They will be available from Christmas on in Europe, USA and Asia at an MSRP of $239. The 12 colorways available are: white, black matt, black, red, black/red, lime, black/lime, light blue, black/light blue, blue matt, navy blue, pink/navy blue matt.
New Complementary Helmet Colors
And if you want a new lid to go with your new shades, Kask has brand new options for their REX, Protone, and Rapido helmets. The Rex mountain helmet includes Orange/Rust, Cherry/Dark Grey, and Lime/Dark Green options. And the Protone is now available in a stylish Black Matte and Anthracite/Lime. Finally, the Rapido is offered in a stealthy Anthracite.
Get Some Koo New Shades
Price: $239 | Available in December | Grab More Info on the KOO Facebook page