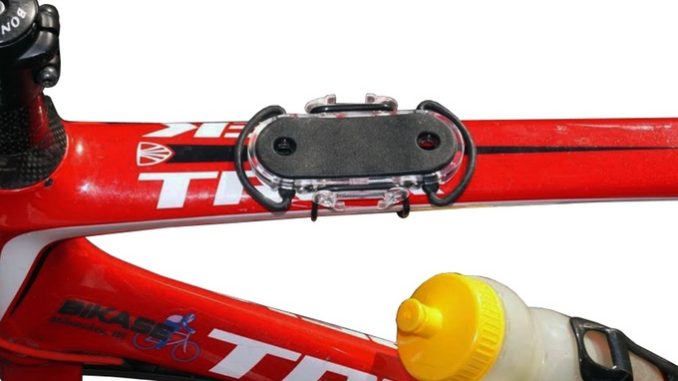 The SuperBand: Versatile, Non-Invasive Cycling Mount
If we've learned anything from Kickstarter, it's that good bike things come from Wisconsin. We've also learned that the weather can get pretty rough over there, which is probably what makes Wisconsiners so innovative. The folks at BiKASE aren't letting us down. They've just recently launched their SuperBand campaign and, frankly, they've already exceeded their funding goal.
And for good reason. The SuperBand solves a very real problem for plenty of cyclists. Don't have pre-drilled holes for a second bottle cage? SuperBand's got you covered. Need a few extra layers for that double-century you're killin'? SuperBand's on it. We're actually quite floored by the simplicity and versatility of this mount. Here are some specs:
Price: $20 during the Kickstarter campaign. A variety of backer levels also get you some pretty steep discounts.
Weight: Approx 39 grams
Max Stretch: Fits gear up to 3″ in diameter
Size: 3.75″ long and 2.25″ wide
Back the Project at Kickstarter
Fully Tested SuperBand Review
The cool people at BiKASE sent us over a SuperBand to try for ourselves, and we like the way it's engineered. The mount does fit just about anywhere on your bike, and an interchangeable, larger band allows you to affix this to just about any sized tubing.
We stuck everything from extra bottles to mini-pumps in the SuperBand, and it held quite fast without marring the finish on our bikes; although, I have to admit I was a little finicky at first about strapping it onto my carbon top tube. But the construction of the mount is relatively soft. No hard plastic comes in contact with your bike at any time.
If you're nervous as well, you can loop the larger band around the frame, which works fine with one small caveat. If you don't get a tight enough fit, then the mount tends to shift a little when you're removing your stowed gear from the bands. It never came off while we were riding, but it's definitely something to be aware of when you're strapping it to your bike–make sure you're fixing it snugly with the properly sized band.
One last feature are the pre-drilled holes that allow you to affix the SuperBand to existing mounting screws. A cool idea if you don't always like to carry a second bidon on every ride, but you still want the option of packing extra gear.
Our Verdict
We like it. We really like it. It's not often that a piece of kit comes in so handy and becomes something of a necessity. Check out the video below for more specs, and let us know what you think.