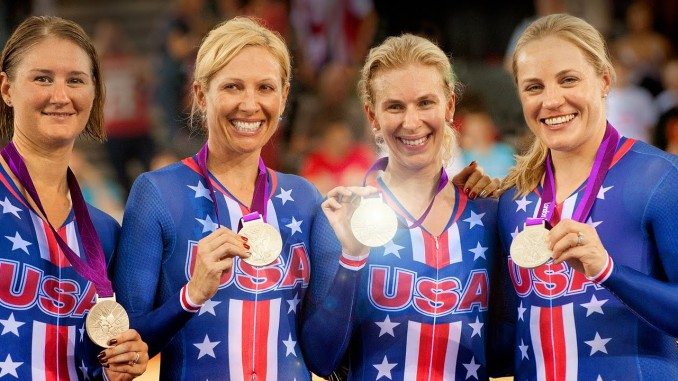 Trailing the big dogs by five seconds and separated by millions in funding and sponsorships, the US Olympic Women's Track Cycling team are clear underdogs from the outset of this documentary. Set against the 2012 disgrace, *cough* Armstrong *cough*, and rampant doping admissions that decimate the men's road cycling field, Dotsie Bausch, Jennie Reed, and Sarah Hammer cling to the motto, "Data, not doping," and prove that impressive results can come despite the refusal to alter one's ability chemically. With the help of various companies throughout the world, these women accomplish something amazing.
Putting aside all the fakey emotion and blasé build-up of Hollywood blockbuster "based on a true story" films that leave you feeling hollow, Personal Gold harnesses the true joy and perspiration (quite literally) of this team's journey. And it will leave you proud of their dope-free accomplishments.
I caught Personal Gold at the SLO International Film Festival, and, in honesty, I wasn't too excited about it. I was psyched for the next day's screening of Half The Road (more info to come). Yes, I'll admit I was reluctant. Bored by the short film which preceded it, and upset by the melted Snicker's bar I unwrapped during the opening credits (don't judge me). But within the first few minutes, sticky chocolate was forgotten. I was clipped in for the 88 minute ride.
The film follows the team from selection to competition, and gives you a serious look at the dedication of professional athletes. Plus, there's Jennie Reed's husband, who kinda makes the movie. With such little funding and up against some big players with deep pockets, this film diminishes our stereotypes by showing the selfless devotion of the men in these ladies' lives who become mechanics, soigneurs, and coaches. The great disadvantages these women face should not only make you believe in the power of the will (oh, and in measuring biorhythms), but also in the great sport that is women's cycling.
But Personal Gold also shows us the fantastic and readily available tech we can all use to improve our cycling. It's the data collection. The power of the number to alter routine. The biological measurements that truly do make doping obsolete. Prepare to geek out, and prepare to love this film.
While it's not in wide release yet, you can catch Personal Gold in its tour across the US and beyond. Check out the film's touring schedule, and make certain to catch it if it hits a theater near you. If my review didn't get you properly psyched, check out the official trailer below:
https://youtu.be/27Uknv-71lA