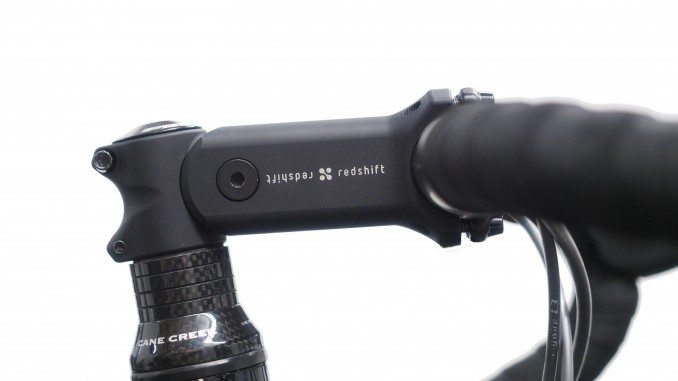 From their inception, shock-absorbing stems have seemed to always leave you wanting less. Less ugly, less weight, less un-cool. Redshift Sports is out to change our perception of shock-absorbing stems with their newest Kickstarter launch.
You've heard us talk about Redshift last year when we checked out their quick release aerobars and dual position seatposts at Interbike 2014. Now the minds at Redshift are attempting to hitch form to function with a stem that dampens road noise while maintaining appealing aesthetics.

Designed specifically for the imperfections of road, gravel, and otherwise, the ShockStop features adjustable stiffness that absorbs impact from bumps, shocks, and road buzz. According to Redshift, it should greatly reduce or eliminate that tingling fingers sensation you feel after a long ride–something that even extra bar tape and good gloves can't quite seem to quiet (at least in my experience). Redshift also claims that the ShockStop reduces up to 70% of forces transmitted through the hands when compared to a standard stem.
And it does all this without making you look dorky.
The ShockStop fits almost all road, hybrid, commuter and triathlon bikes and initially will come in 90mm, 100mm, 110mm, and 120mm lengths in both the +6 and -6 degree angles. If you need a more relaxed position, RedShift also plans to offer a "high-rise version" at around 30 degrees.
Relatively light 3D forged aluminum weighs in at 238g (90mm version), and fits directly to 31.8mm bars. Shims allow the ShockStop to fit on smaller bars from 25.4 – 26mm.
A smooth ride without affecting the handling or fit of your bike? We think Redshift is on to something here, and, based on the quality of their other offerings, they will likely deliver on their promises. We plan to see the ShockStop in person at Interbike. Stay tuned!
To get in on the action and grab yourself a ShockStop, head over to the official Kickstarter campaign. The Shockstop is currently set to deliver in April 2016 and earlybird backers can get one for $89 ($99 after the first 100 backers pledge).
More Info From the Press Release:
"This isn't your father's suspension stem. The ShockStop uses the same sealed cartridge bearings that are used in high-end mountain bike suspension pivots, and the forged aluminum components are extremely torsionally rigid, so climbing and sprinting feel completely natural. The travel is also specifically limited to 1-2 centimeters (6°) – enough to provide amazing cushioning against most road impacts, without affecting the geometry or handling of your bike. Twin interchangeable elastomers let each rider fine-tune the road feel to perfectly match their own riding style. Racers, triathletes, and competitive riders can choose firmer settings to retain a more traditional front-end feel, while commuters, fitness enthusiasts, and endurance riders can dial in a softer feel to maximize comfort.
So what does it feel like? In a word: smooth. The effect is comparable to switching from 23mm tires at 110 psi to 32mm tires at 50 psi, without any of the added rotating weight, rolling resistance, and aerodynamic penalties. Road buzz is almost completely eliminated and impacts from larger bumps and cracks are dramatically muted. The ShockStop is the next logical step in the recognition that cycling performance and comfort are not mutually exclusive concepts.
Key Features
Easy to Install Most people can install the Shockstop in just a few minutes with basic tools
Standardized Comes in a variety of standard lengths and angles to match your existing bike fit
Adjustable Dual interchangeable elastomers let you tune the stiffness to match your ride feel
Lightweight From 238g for 90mm length
Maintenance Free Sealed cartridge bearings and rugged elastomer springs eliminate maintenance
Torsionally Rigid Advanced pivot joint maintains torsional stiffness and steering responsiveness
Advanced 3D forged 6061-T6 aluminum components and FEA-optimized design
Rugged Utilizes the same fully-sealed cartridge bearings found in high-end mountain bikes
Adaptable Clamps directly to 31.8mm handlebars; fits 25.4/26.0mm bars with included shims"