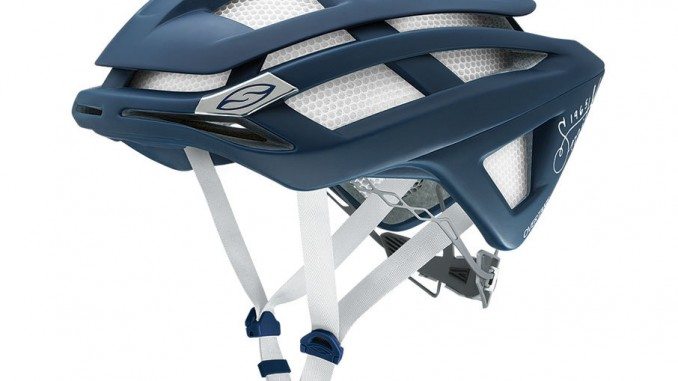 Update: Previously, we had included a few Cannondale helmets on this list, but, since learning about recent tests that found a problem with breaking chin straps, we've removed them from our list. Instead, we're interested in the stuff that Kali Protectives is doing these days.
And on to the original post:
A few days ago, I was out riding my single speed–you know, the pretty blue one that I bragged about building in other blog posts. I stood up to hammer up a hill (ok, a small incline) and BOOM! Chain jammed, bike stopped, I didn't. I got bucked off and flew through the air while making an awesome Charlie Brown AAAAAAAAAARGH until I hit the asphalt. Thankfully, I rolled and only fell victim to some minimal road rash, but the split-second I went from riding happily to sprawling shook me up a bit.
And it got me to thinking. Had that been a serious crash, how would my helmet stack up against the pavement? So, I started doing some research into the safest road bike helmets on the market now.
These days, we're starting to see some real improvements in helmet safety, which has been long in coming. Brands like POC, Smith Optics, and even Cannondale have moved in the direction of helmets that not only protect you better from impact, but help to reduce the risk of concussions–about time, right?
Of course, any helmet (well, I don't know about that 1984 Bell you found in your garage) can help prevent or lessen the severity of an injury–so no matter what, please wear your helmet.
---
What to Look for:
Currently, there are a few letters you want to look for in a safer helmet: EPS dual-density foam (the dual-density is important) and MIPS (Multi-directional Impact Protection System). Basically, EPS foam works to provide cushioning and crumple zones to better absorb impact (but be forewarned, not all EPS is created equally). The MIPS helps to minimize rotational forces on the brain, which are caused by angled impacts, and uses a layer that slides when the helmet comes into contact with something. This allows the helmet to take some of the force that would normally be transferred to your brain. If that just sounded like confusion, here's a short video explaining MIPS in more depth (it's worth watching, even with the creepy test dummy head falling around): 
There are also things like honeycombs and such, but to truly understand those things you'll have to do a bit more reading. Check out this great article from Bicycling Magazine for more details on how these systems are really protecting you–I could bore you with the details, but they already have, so why re-hash it? Instead, I'll show you a few helmets that my research has found to be some of the safer ones on the market.
---
Choose a Safer Helmet! 
The following helmets are considered road-worthy. Something a road cyclist would, could, and should wear to stay safer than the average.
POC Octal
Weight: Around 200 grams, depending on size
Cost: $270
Designed with a beefy EPS foam liner, the POC Octal is designed to offer fuller protection for the temples and back of the head. You've probably seen the boys of Garmin-Sharp wearing these helmets this year, and they certainly stand out from the crowd. Huge vents offer massive cooling without sacrificing safety, and POC's AVIP (Attention, Visibility, Interaction, Protection) helps keep you seen on the road.
POC also offers Aero versions of their helmets with generous amounts of EPS foam. You can get the Octal Aero for $300 and the Tempor for $370. Although these aero helmets resemble something from a kid's space movie (somehow, I keep thinking Wall-E, but I don't know why), they use strategically placed vents to draw air through the helmet instead and past your shoulders. Considerably less drag when you're time trial-ing or during the bike leg of a triathlon.
In case you're repelled by the price or looks (or both) of the POC, you might be swayed by the free cycling cap that comes with the Octal. No? Keep reading.
Lazer Helium
Weight: About 260 grams
Cost: $260
The Lazer Helium with MIPS technology offers that extra layer to help protect you from rotational forces. If you watched the video above, you'll notice that the inner yellow liner slips to prevent your brain from absorbing the angle impact.
With 19 vents, and an interesting look, this is certainly one of the more road-worthy helmets you can get with MIPS technology. When you're buying, make sure that the Helium you're looking for is the new MIPS version. You'll be able to find some older models without the technology, so if you want the safety features, make sure you're actually getting what you want.
Smith Overtake
Weight: About 250 grams
Cost: $250-$310 (with MIPS upgrade)
The Smith Overtake has been generating plenty of buzz in advance of its release this fall. Depending on your aesthetics, you might think this is the coolest looking road helmet ever. I am actually quite won over by its foreign good looks and super low profile. What makes this helmet so special? Well, plenty. Not only is it seriously aero (think in the area of the S-Works Evade and Giro Air Attack), but it's also seriously vented with the Koroyd safety material.
Remember I mentioned honeycombs earlier? This helmet utilizes that special safety Koroyd feature to not only allow for optimal air flow, but it also acts as an impact absorber. According to Smith, it offers much greater impact reduction than the EPS foam alone (which the Overtake still has, but just in lower doses than most helmets). Very, very cool. With 12 colors to choose from (5 with the optional MIPS upgrade), you're sure to find a color you like.
Unfortunately, it hasn't been released yet. But hopefully I'll be bringing you a full review of this beauty in the near future.
So those are a few helmets that stand out from the rest. Found one you like? Comment below and let me know what you think–or what you're riding now.