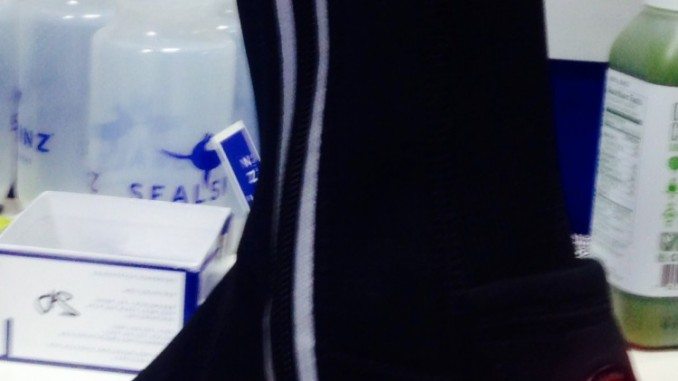 In the midst of Interbike heaven, and next to one of the coolest waterproof sock demonstrations I've seen in a while–yes, it did involve a woman sloshing around in a tub full of water–I had a chance to sit down with the folks at Sealskinz to discuss the upcoming release of their new HALO Overshoe. Giving the sample a close once over, I couldn't help but be intrigued by its sleek and lightweight design that should have cold-weather riders rejoicing.
Hitting shelves in December of 2014, the HALO tweaks the already cutting-edge technology of Sealskinz' existing line of neoprene and lightweight Overshoes to offer the all-new HALO. What's so cool about this release? Not only will the HALO keep you warm, dry, and pedaling in style, it will also keep you more visible. A great thing for folks here on the Central Coast where foggy mornings (and afternoons, let's face it) require that extra bit of flash to alert drivers that you're present on the road.
Not only does the HALO sport reflective piping on the zipper–now moved to the side for much easier access and fit–it also offers an LED light in each heel to help you stand out on the road (and also help you show off your hard-earned, smooth cadence). Set in a pouch of sorts in the heel, the LED is battery-operated. More info to come on battery life and lumen output.
Set to retail at $70, the HALO might just be a solid answer to your cold or wet weather commutes or training rides. If the HALO is anything like its predecessors, it should offer fantastic protection against wind and marring from contact with the road when you stop. They should also keep you dry while still allowing for full flexibility and sweat-wicking. A great way to stay comfortable while being seen. Hopefully, I'll be testing a set or two out for you and delivering an in-depth review in the near future. Until then, get stoked for December!
While you're waiting, check out Sealskinz' existing line of waterproof socks, overshoes, hats, gloves, and pretty much everything useful at www.sealskinz.com