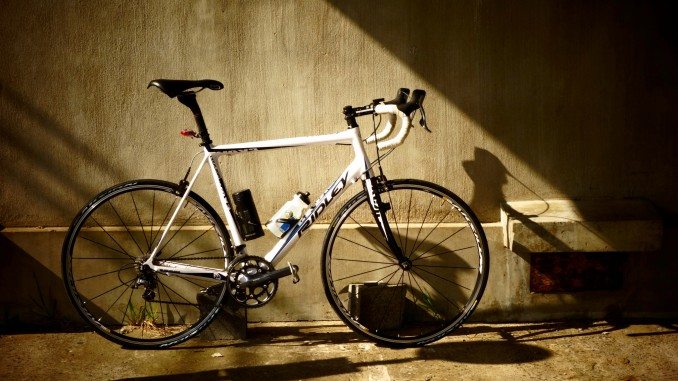 Updated 9-7-2016!
Tony: "I found a good deal on a bike on Craig's List, and I'm going to check it out in person, but I don't know what I'm looking for. I am pretty sure the bike is the right size for me, but I want to make sure it's really in good shape. How do I know whether a bike is really worth the price? How do I know if it's been crashed, and what should I check to make sure it's a good bike?"
Tony. Fantastic question. As one who has sold many a bike on Craig's List, and bought more than a few with friends and family, I can hopefully offer you some good tips on this.
Once you've chosen the bike for you, you can check out a few important things to make certain that it hasn't been crashed or treated carelessly. Before you do anything, you should take a look at Bicycle Blue Book for the current value of the bike you found to make sure that sweet deal really is sweet. Add in all the proper components and any wheel upgrades for a super accurate price.
Of course, taking the bike to your local shop to have the mechanic check it over for you is probably your best bet, but if you don't feel like bothering with that you should be able to get by with the following steps.
First, don't forget to take a few tools with you: A multitool, flashlight, and chain checker should do the trick. Plus, they'll make you look super intimidating.
Check Out That Purty Bike's Frame

 
Before you do anything, make sure you look carefully at the bike's frame. Inspect it in good light (better yet, use a flashlight), so you'll be able to see any fine cracks. Look at every inch of the frame–it's not a bad idea to take the wheels off–and if you see a crack, leave the bike. While some cracks can be repaired, it's just easier not to have to deal with it. Not to mention that they make the bike generally unsafe to ride.
Minor scratches shouldn't worry you too much, unless they're rusty or over several spots on the frame. The key: avoid dents, cracks, and deep rust. While you're at it, look at the bike from several angles to check for a bent frame–especially in the seat and chain stays. A straight frame is a cool frame.
Take care to look over the seat post and the condition of the frame at the collar–does the post wiggle or move when you twist it? Are there any stress cracks from over tightening? If so, be wary.
Components, Components, Components
Look over the saddle, derailleurs, brake hoods–OK, look at everything. If you see scuffs on the saddle, the seller likely crashed, but ask them how it happened. Often, a minor tipping over because you forgot to clip out can put major scuffing on a saddle without doing any real damage to the bike. If, however, you see chips, dings, scratches, or the like in the rear derailleur or dropouts, they likely had a much larger crash. If they still have the pedals on, check them as well to see if there are any chunks missing.
While evidence of a bigger crash might scare you away, if the frame and components are still in good working order and free of cracks or dings, you still might be interested if the price is right. But definitely ask the seller what happened. How did they crash? Did they have anything repaired on the bike? Have they ridden it many miles since then? This is really your judgment call.
Gears: 
Run the bike through all of its gears several times. If you hear any clicking, grinding, or see a lot of dirt and grime, something is likely wrong. A dirty drivetrain is a sign that the bike may not have been well cared for. Noise in the gearing or clunky shifting could be anything from a cheapy bent derailleur hanger to a costly destroyed hub.
Wheels:
Make sure, first off, that the wheels match each other. Mismatched wheels could be a sign of a crash bad enough to taco a rim. Lift the bike up and spin the wheels to make sure they're true. Lift it off its front wheel and let the steerer swing from side to side–stay away if it stops in the center.
Spin the wheels to check for drift from side to side. While a minimal amount of movement is ok, make certain it's in the same spot for each revolution–if it's uneven or intermittent, the bearings are likely shot. No deal, unless you want to service them or replace a wheel very soon.
Chain:
It's a good idea to bring along a chain checker tool like this one
 to see whether or not the one on the bike is worn. If it is, pay close attention to the chainrings and cassette–a worn out chain will wear out your whole drivetrain–also look for signs of shark-toothed cogs. Having to replace these could help you haggle down the price, since they are parts that you'll need to buy new relatively often anyway.
OK, Now Ride It:
If all looks good, take it for a spin. Listen for creaking and pay attention to the way it steers. See how well it handles by weaving back and forth. Hit the brakes and make sure they work (maybe test them before you take off). Get up to speed and feel for wobble in the wheels.
If all seems good, get the bike. Revel in the glory of the good deal. And feel vindicated in your choice to buy used and keep some extra money in your wallet for things like eating regular meals and paying for your house.
One last thing: you should still definitely take it to a bike shop for a safety check, just to be safe.