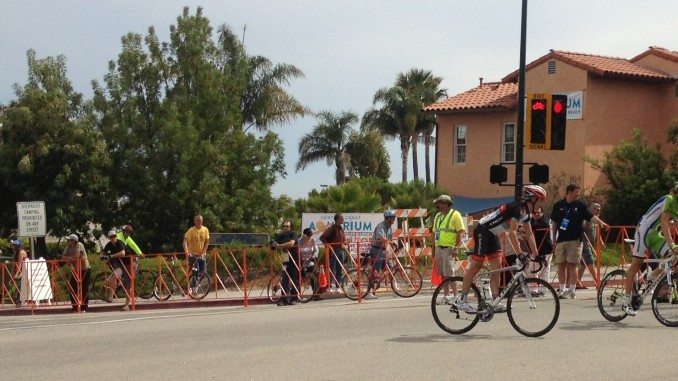 The morning of my first race, I couldn't eat. I checked and re-checked my gear, and I probably threw up at least once. Much of my pre-race jitters came from not knowing what to expect from the pack, whether or not my legs were solid enough to hang, and wondering how many times I would get yelled at during those few hours with my number pinned on. That first race taught me a few things: where my breaking point was, and how much of an addictive rush bike racing can be. But aside from knowing my training plan, and making sure my kit looked just right, I was pretty green. Here are a few things I've learned from my time in the peloton:
Coast When You Can: The key to staying fresh is all about saving energy. Draft when possible–I'm not saying be a wheel sucker, work together with others if you're in a breakaway, but the more you can stay out of the wind and draft the rider in front of you the better. Use your brakes for safety's sake, but if you're slowing yourself down to keep from hitting the rider ahead of you, you're pedaling too hard. If there's room, use the wind (and not your brakes) by moving slightly to the right or left of the rider you're drafting to slow you down. But be careful with this maneuver if you're in a large pack–otherwise you might hear several shouts of, "Hold your line!!!"
Ignore the Yellers: Some folks feel like the louder they scream, the cooler they are because they know what's what. These riders are just angry and feel like spreading their bummer around. Don't fall for it. Ignore the shouts. You won't learn anything from these folks about how to race. After all, it's a race–they can go around you if they really want. If someone seems friendly and knows what they're doing, don't hesitate to ask them a question or two if you feel like you've done something wrong. Just don't get turned off by those who holler. But if it is your first race, just remember to learn from your mistakes–the best cure for fear of racing is usually experience.
Be Cool, Know Your Limits: The best way to make other racers angry is to swerve or change speeds without warning. Don't take a pull at the front if you're not able to–it's fine to sit in the pack if you can't drag the set pace. Only take your turn at the front if you feel strong enough to hold the speed the group has gathered. If you're getting out of the saddle, pedal while you're getting to a standing position–otherwise you'll slow down slightly and the rider behind you may end up on the ground in front of you.
Although you can't necessarily expect all cyclists to follow bike etiquette in a race, it's usually a good idea to follow the rules. Point at objects in the road–(allow me to stop here and describe a pet peeve that seems to permeate through the ranks of triathletes: calling out road obstructions/dangers. I'm behind you, I can't hear you say, "Pothole" until I've tacoed my rim and you come back to me at the roadside, stop, and say, "You hit the pothole?" Use hand signals! Point things out, palm out on your back if riders are slowing down, raise your hand, yell FLAT! and stick to a straight line until everyone is passed you before pulling to the side of the road. Those sorts of things. They're key to keeping everyone in the peloton as safe as possible. I read that back now and it sounds angry . . . but necessary. 😉
Warm Up!: Lots of rookie racers forget this key part of the race! Starting warm will make sure you can respond to the speed of the race right away. Although the general rule of thumb is that you're not warmed up until you're sweating, you'll learn through practice where your body kicks into real racing gear. It takes me about 20 minutes of warm up before I can start hammering. This may be longer than most people–but that's how my body works, and I can't get away from it. Your time will most likely be lower, or different at any rate.
Get Practice: The best way to learn about racing is by, well, racing. But you can get the most bang for your buck by riding with a fast group once a week or so. Stick to your racing plan, and understand that you're responsible for your own front wheel. In a race, riders will sometimes cut into a space ahead of you–and possibly clip your front wheel if you're not paying close attention, and they won't fall . . . you will. Stay alert! Be mindful of opening gaps between you and the rider ahead of you. If you don't close the space, someone else might . . . . Remember, it's a race, and not everyone has to be polite.
If you're local to SLO, and want to get some race-day practice in, there's a hammer ride every Tuesday night at 6pm (during the summer), which leaves from CBO on Monterey Street. You might get in touch with CBO before you ride over, just to make sure it's still on. Also on Tuesdays at noon, SLO Nexus (a local cycling team) hosts a race simulation with sprints and the like–recommended for experienced riders only. If you're looking for a great local team, SLO Nexus is pretty awesome and will most likely give you the support you might need to get you racing at your best.
Race Smart, and Stay Safe: Riding with a pack is dangerous, and the risk of a crash is always heightened. But if you race smart, and don't take your $9,000 TT bike to a crit only to have it wind up in three pieces, you can stay upright and enjoy the run. The key is practice in bike handling skills. Corners are often where most crashes occur as many new racers try to pedal through a tight corner with road rash results.
The following video is pretty helpful when it comes to learning that aspect of bike handling. Take a look, practice, and ride with a pack before you race:
Find a local practice ride, like the hammer ride mentioned above, or practice crits if that's your chosen event. Here, the Cal Poly Wheelmen and SLO Nexus usually host practices out near the SLO airport–especially before Poly's home crit in February, which is open to collegiate and non-collegiate racers. Check with those two clubs if you're looking for local crit practice: SLO Nexus, Cal Poly Wheelmen
How the Heck Do I Get Started?: If you've never raced before, you've got to learn a bit about the Categories (Cat for short). Unless you're collegiate, which uses a letter system (A-D), you'll start out as a Cat5 race. The numbers range from 1-5, 5 being the lowest. Basically, you earn points by number of finishes that will earn you the ability to upgrade. For a more in depth review of the Cat system, check out USA Cycling's site, which handles all upgrades–often through your local club.
Of course, before you can race, you'll need a license. You can buy a single day license for $10 if you're just buying for one race, or get a full year for $60 ($30 for collegiate or junior).
How the Heck Do I Find a Race?!?: Once again, search for sanctioned races near you via USA Cycling's site–make sure you race in an officially sanctioned event, or your points won't count toward upgrade.
There are always more tips for a successful race, but above all, remember to have fun! You're on your bike! You're speeding down the road! What could be better? If you've got other advice I didn't list here, leave a comment and pass the knowledge around.