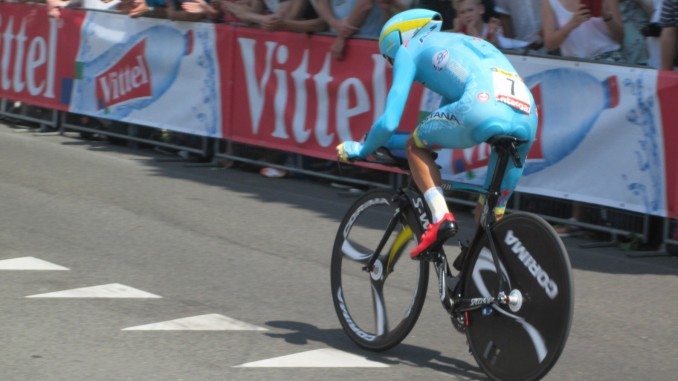 With the Tour de France in full swing, people are noticing that the riders are all sporting these strange black stick things under their saddles–at least it seems like a popular topic on social media. You might have seen them in the recent Criterium du Dauphine, but now every single rider is carrying one on his bike. So here are some reasons why you should be stoked about this tech–and maybe a few reasons why you should ignore how dumb they look under everyone's seat (all right, I'm actually cool with the jokes).
So what the heck are they? Well, a company called HiKoB has produced the Fox, which is basically a device that tracks everything from barometric pressure to physical positioning. The device is being used to enhance broadcast coverage through GPS and such to not only give us accurate rider position, but also instantaneous and precise time gaps between the breakaway, peloton, and riders off the back.
Gone are the days of motos relaying information via blackboards taken based on their position within the riders. Gone are the days of having to figure out who is in the breakaway or the gruppetto. Gone are the days of guessing commentators who have to wait for the camera to pick up specific riders to see where they are. Now broadcasters have access to exaclty where each rider is on the road at any given moment.
Pretty cool stuff. And, so far, commentators seem to be enjoying the instantaneous and pinpoint information–and it's not so bad on us either. With the positility of rider maps out there now, this could seriously enhance our ability to understand the way our favorite riders are approaching the race and where they found themselves at any given moment. So far, this seems to have a firm hold on the future of racing coverage, and I'm stoked to see where it's headed.
Photo by Henk-Jen van der Klis