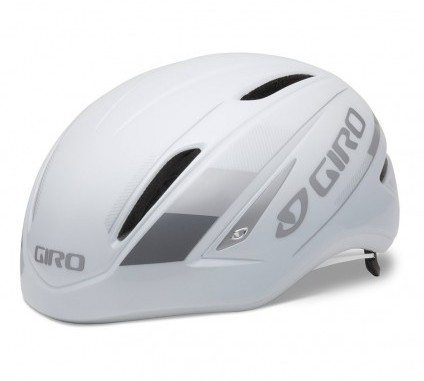 It's not often that you have the opportunity to buy speed–at least not without months and months of training to make drops in weight actually matter. But the new Giro Air Attack helmet offers you just that: speed without the work. Although it may look like something straight from the 80s, and yes some of the color combinations are a bit, well, throwback in a bad way, the Air Attack borrows from the pointy sweeps of the pure TT helmets without requiring you to actually be riding a time trial. You probably noticed David Millar wearing a helmet similar to this in the Tour last year, and behold it has caught on. Why? Because this helmet grants you extra speed even on your every day ride.
So what makes this helmet so special, and why should you buy one? It literally slices through the air to give you an aerodynamic advantage, and it's venting system keeps you cool via internal channels. What does that mean? No more resistance with those massive vents in the more popular styles. The internal channels combine with the new Roc Loc Air system to provide both a customizable fit that Giro is famous for (and yes, speaking from experience, these Roc Loc systems do what they say they do–provide the perfect fit) combined with a cooling web that keeps your head well ventilated. While you may find that on super tough, drawn out climbs the ventilation won't quite be adequate, it will keep you comfortably cool 95% of the time.
At just around 285 grams (medium), this helmet feels feather light on your head. The Roc Loc system suspends the light lid just slightly, so you're sure to get plenty of air circulation. Plus, three height adjustments allow you to get the most customized fit possible.
For more aero advantage, grab the Shield version that boasts a Carl Zeiss lens–yah, that's serious folks–that connects via three magnets. These allow you to remove the shield easily, flip it upside down to keep it connected but away from your face, and keep it from bouncing or rattling around on your face.
Why get this and not a full aero helmet? Well, let's face it, this does look better. Although it's not quite as large of an advantage as its big, tail fin sibling, it's a more comfortable, cooler, and more versatile alternative to the limited use that your full aero helmet will get.
Before you dig in and buy some speed, make sure to try the helmet on! Giro has a tendency to fit oval-shaped heads better than round ones–which is why I had to switch ages ago from my Aeon to a Specialized lid. But the Air Attack seems to draw a larger audience without the massive, forehead denting vents toward the front. But be safe, try it on first.