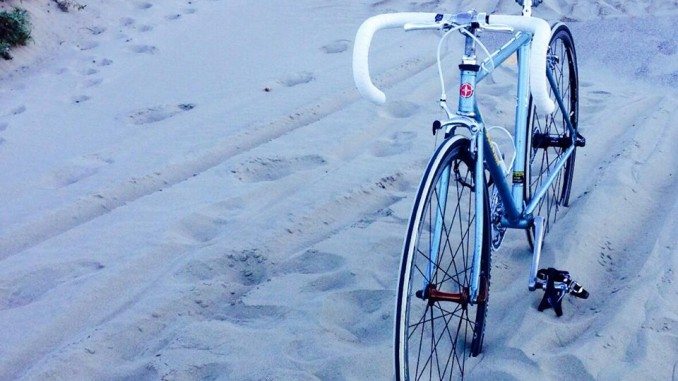 Vacation has ended. The holidays are over. It's kinda cold outside–OK, well it was for a few days last week–and now it's time to get back to work. So, since I'm waxing poetic these days with the quiet elation of being cleared to get back on the bike after a slow recovery, I thought I'd start the year's posts off right with a look forward.
First off, I'm happy you're here. SLO Cyclist really took off in 2014, and expanded from a local guide to cycling to a worldwide source for cycling-centric commentary. With this leap, I've had several opportunities open up (more info to come on these in the near future) but it's also presented me with a choice to make. How should I define SLO Cyclist? And that's my reason for this editorial interruption in the usual bike-related talk.
SLO Cyclist is gaining some serious traction. With legitimacy comes growing respect in the cycling world, but also the pressure to become an impersonal online magazine with a big staff and big-time stories. This blog is nothing if not built on my passion for cycling and my experience with the riders and races around me. With that philosophy in mind, I've decided to expand in a more unique way. Since I can't take on the entire workload now, I've brought in some close friends to help with product testing, outreach, and planning. They'll likely do a bit of writing here and there, and help keep SLO Cyclist personal and connected to the important people: riders like you.
With the expansion comes super exciting new content in 2015, renewed dedication to filling posts with useful yet fun info, and a stronger definition of what it means to be a cyclist. And I'm stoked!
So here's my plan for this year's content:
Race Reports with a Twist

I thought this was a great idea last year, but other categories started getting in the way and suddenly the season was over. So I've renewed and revamped the idea. This year, you'll get race reports the SLO Cyclist way–with an edge (I think that means humor). Not only will it include following the pro races (yes, men's and women's!), but I'll also be visiting as many of the local races as possible. Sea Otter, SLO Cross, the Tour of California, you name it. But along with the old standard tell-you-who-won-the-race-boilerplate-blah-blah-blah, I'll really be covering the important stuff: which booths in the expo are must-vists, where to get a musette from your favorite team, and more.
In addition to reports from the big races, I'll also post details on rides/races you might be interested in adding to your calendar. So you can decide whether the swag-bag is worth the entry fee. 😉
Cuz you want to know just how much wheezing I did in the final 10k, I'll also be running short editorials on my own races.

Stupid Questions

With an inbox full of questions waiting for answers, you're all helping me to build a comprehensive collection of those nagging inquiries that maybe you just don't feel comfortable asking the cyclist next to you on your group ride. That's cool, cuz this is a safe space. Look for some serious expansion to the Stupid Questions section this year!

Training Stories

Back in the day, I posted little editorials about my training sessions. I've decided to bring these back as well–especially as I train for a heavy race season this year that includes my kind of Ironman: one without running.

SLO Cyclist Gets 'Cross

Just like he did with triathlon, my husband started forcing me to participate in Cyclocross. Get ready for the chronicling of my terrible foray into 'Cross. It will likely include a lot of newbie face-plants and other various mistakes.

All the things I've already been doing

Gear Reviews, How-Tos, Tips, and Bike Advice. These categories have a huge readership, which elates me. They won't be going anywhere, but will be worked into an editorial calendar to make sure that all of these sections stay refreshed on a regular basis.
So that's the year in a bullet list. I'm excited to see what 2015 holds. Thanks for your attention this year, and be sure to let me know what you like reading.
Here's to cycling! Let's get out and ride!