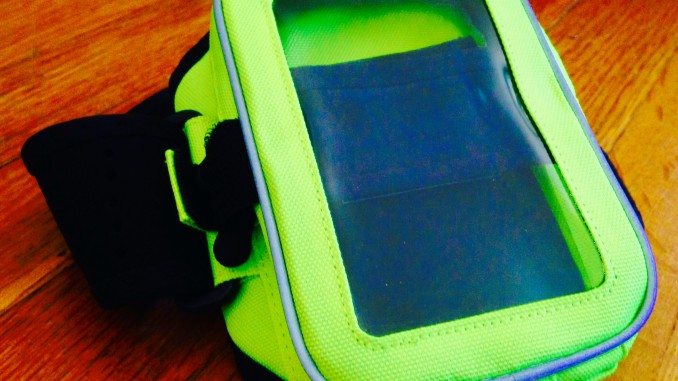 Let's face it, the most unfortunate part of being a triathlete is having to get out and run. But running, as much as I can't handle it, offers plenty of bang for your training buck. So why not make those runs more enjoyable with some cool safety gear? Since I'm a reluctant runner, I recruited my best friend and marathoner to test some of the coolest products for your next run. Together, we've tested these on everything from short training runs with a BOB stroller to a full-on RAGNAR relay–so, yep, they've passed the scrutiny of an entire run-loving relay team as well as a hesitant and wheezing cyclist in the act of running.
If you don't know what RAGNAR is, imagine a race with traffic-filled roads, covering approximately 200 miles, in the dark (at times), and with the added adventure of trying to figure out where you are at any given point with a poorly marked course (maps are key). Visibility and the ability to pack around a few things are an absolute necessity.
At Interbike, I got the chance to get up to speed with some of the newest running accessories (but these certainly aren't limited to running–they cross over to cycling with ease). With plenty of samples from the friendly people at Nite-Ize and Armpocket in tow, we decided to put them to the test over a few rigorous training sessions and races.
Over a couple of posts, I'll offer up some accessories you might want to add to your running and cycling arsenal. Let's start with the Armpocket.
Take Everything with You in the Armpocket!
ArmPocket Specs:
Price: $24.95-49.95
Color Options: 7 (dependent on model)
Styles: 7 (everything from aero to racer models)
The Review
Made of recycled bottles and other eco-friendly materials, the water-resistant Armpocket takes the prize as one of the most useful and comfy armbands we've ever tried. With a memory foam liner, this phone, key, card, gel, and kitchen sink carrying case actually conforms to the contours of your arm for a customized fit and no slipping.
This is by far one of the best armbands I've ever worn. In fact, our marathoner says, "It's actually the only armband I've ever worn on more than one run because I cannot stand armbands! They always fall down to my elbow and remind me that my biceps are too small. I tighten them only to make my arm itch or even go numb. The human arm just wasn't designed to hold up a pouch for all of your stuff. This was different. At first I felt it slipping and tightened it to the point of discomfort, but near the end of mile three of RAGNAR, I forgot it was on. The memory foam backing did its thing. I gratefully remembered I was wearing it when I found myself lost and frantically searching for the next directional marker with three other lost runners. I'd stuffed a tiny printed map of each leg in the small pocket behind my phone, and this saved the day for all of us."
One Small Con
During the wee hours of the night at RAGNAR, our marathoner found that her long-sleeved tech shirt did cause the case to slip. She cinched the Armpocket down tighter, and though it was a bit less comfortable, she figured that the peace of mind of having her phone with her and accessible at night outweighed the tug on her arm. When morning came, she switched back to short sleeves and focusing on her sub-seven-minute miles (Man, I feel slow).
Models, Colors, and Features
The Armpocket comes in bright, reflective colors to help draw more attention to the pocket you're wearing on your arm. I'm a fan of the bright yellow. If you're going to wear something extra it might as well add to your visibility. The case is water-resistant, which means you don't have to worry about your phone or cash getting soaked while running in a downpour. Of course, there's a serious drought going on in our neck of the woods . . . er . . . ocean, so really the key feature here is that the Armpocket protects against sweat seeping inside the case. And if you've ever stuffed cash into those little zippered pockets in your running pants, you'll understand exactly what a nice feature this is. No one will be afraid to let you pay for something with the Armpocket.
In fact, you might be a bit shocked by all that the Armpocket can hold. With a band that holds your phone against the front of the case, you have space in-between the phone and the little card/cash slots at the back. I stuffed two gels, a full set of keys, my phone, driver's license, debit card, and a few bucks in cash into the Armpocket without any difficulty zipping it up. Unfortunately, I couldn't get a gel flask in too, but I think that was pushing it a bit.
Sizes, Phone Models, & All That Case Jazz
We tested two Armpockets with our iPhone 5 and Samsung Galaxy, respectively. The good news, the iPhone 5 fit quite easily in the i-25 Armpocket with my LifeProof case installed, and I was still able to use my phone through both the Armpocket's screen and my LifeProof's screen. This is quite the feat, and a real plus for the Armpocket that other armbands I've tried could never come close to. If there's one small complaint I had, the phone doesn't quite sit flush against the Armpocket with the case still installed, but, aside from it being a bit OCD-inducing, it didn't really affect the usability of the phone.
As for our marathoner, her Samsung Galaxy fit in the i-30 Armpocket, and she reported successfully sending text messages without having to remove the phone. However, she did have a bit of trouble pressing the unlock button at the top of the case through the Armpocket's material. Although she did add that her phone's advanced age (it was born in 2010–did they even make cell phones back then?) may have been the true culprit.
My Favorite Little Feature
One tiny, but awesome, plus with the Armpocket is the cord-keeper tab. Meant to hold your headphone cable in place, it also tucks the zipper tabs in behind it. Why is that so cool? Because when you're running, you don't hear or feel the annoying bounce of those pulls. The Armpocket sits quietly, steadily, solidly doing its job.
A Final Word from Our Marathoner:
"In a perfect world I would still run sans armband, and when I'm feeling confident I probably still will. Running for me is all about freedom so any extra thing attached to my body will always bug me. But this is a world where I've limped miles home with a sprained ankle since I couldn't call for a ride. I know I've also frightened my best friend when she couldn't get ahold of me after I'd left on a 19 mile run. 😉 When I must have a phone, or keys, or a map, or snacks, I will carry them in the Armpocket with only minimal hesitation."
And yes, I am the best friend who nags her about running with a phone. Can't tell the folks at Armpocket how happy I am that she is just that little bit safer. If you're ready to snag yourself an Armpocket, head over to their official website and check out the size and color options they have available. You can also pick one up at Amazon, but make sure you get the right size for your arm and your phone.