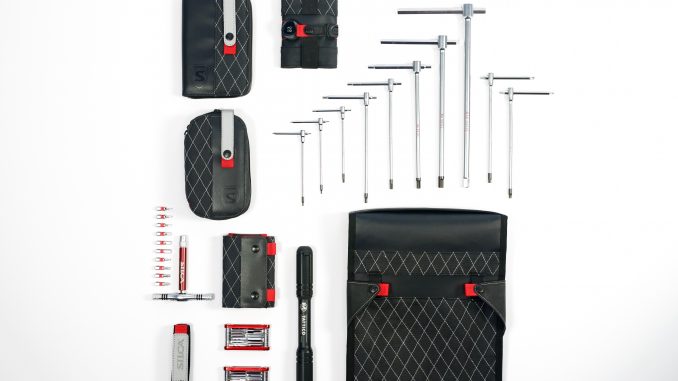 SILCA has just introduced their new sliding T-Handle Folio hex set and the Tattico Mini-Pump as part of an early teaser to their new 2017 line of products. I saw both of these back in September at Interbike, and, after some hands-on, it's clear that these are high quality tools for home wrencher who wants kit that will last.
T-Handle Folio
The sliding T-Handle Folio is an essential hex set for the pro-mechanic's toolbox. These tools combine fully forged single piece main bodies with sliding, oversized cross members featuring end stops. The T-Handles includes 3 position sliding cross bars allowing the tool to quickly move from high speed spinning to high leverage. Unlike traditional sliding T's, these also detent in the center for greater control when spinning fasteners in or out at high speeds.
The kit contains 2, 2.5, 3, 4, 5, 6, 8, 10mm and T25, T30 T-Handles in a hand-sewn waxed canvas folio bag for easy some pretty ingenious storage that can be thrown over a work stand or seat back if you're a pro tour mechanic. The 8mm has been specifically optimized for Pedal installation and removal, reducing overhang to an absolute minimum. The 10mm is designed for the Campagnolo Ultra-Torque BB bolt, with perfectly sized cross-bar length, as well as the addition of hard stops to prevent the fastener from freely sliding down the length of the tool during install
The T-Handle Folio Bag is made from 12 oz. Waxed Duck Canvas, computer quilted (that means its perfect, cuz computers) with reflective thread in the classic SILCA diamond knurl pattern, paired with ripstop nylon and ultra-grippy designed for easy transport, and securely drapes over and fastens to any horizontal element such as a top-tube, bike stand, work stand, car door, etc.
T-Handle Folio Features:-2, 2.5, 3, 4, 5, 6, 8, 10mm Hex Sliding T-Handle Tools -T25, T30 Torx® Sliding T-Handle Tools -T-Handle Premio Waxed Canvas Bag-
MSRP: $ 185.00 | Get more info at http://silca.cc
Tattico Mini Pump
The Tattico Mini-Pump is designed to be large enough to work well, while being small enough in footprint that it can nearly disappear alongside a bottle cage on your high end bike; The Tattico is also the first SILCA portable pump since the 1950's to use a hose. Cleverly positioned within the inner barrel where it is able to slide in and out of the end of the pump without being removed or having to thread in place allowing maximum air volume per stroke. The hose attaches with a compression gasket activated by a small aluminum lever.  In classic SILCA fashion, the compression gasket it reversible for Presta or Schrader. The Tattico fits comfortably in a pocket or mounted in its carbon reinforced clip under your bottle cage.
Tattico Mini-Pump Features:6061 Alloy barrel and gripping surfaces. -High efficiency piston design. -Long extractable filler hose with locking presta/schrader chuck. -100psi -9-1/2" length-Includes direct-mount bracket with retaining strap. -Beautiful matte black finish -Full aluminum exterior construction
MSRP: $55.00 | Get more info at http://silca.cc