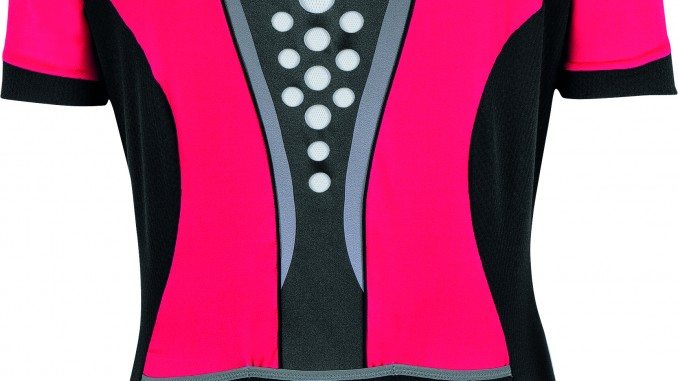 Perhaps my favorite trend at Interbike 2014 was the obvious push for legitimate women's gear. The cycling industry is working toward giving women of all skill levels quality products that incorporate the latest greatest innovations in more sizes, colors, and fits that work for real women on the road. One of those forward thinking companies  is Santini SMS. If you're not familiar with the Italian clothing company, get familiar with them because they're about to change your ride with cycling kits that keep you hammering in style and comfort.
Taking cues from one of the greatest track cyclists of all time, Anna Meares, Santini SMS launched its Anna Meares Signature Collection just added to the Santini SMS line this summer. As a female cyclist, Meares knows the struggles we women face when it comes to cycling clothing options, and she wants to do things differently. So not only does the collection feature all the great high-tech features you'll find in the men's line, but in cuts that fit and flatter a woman's body. Not to mention a variety of colors and patterns that should please even the biggest flower-haters out there (I might be referring to myself there).
I got a chance to drool over these kits in person at Interbike, and the look and feel of the fabrics is simply fantastic. Though I haven't had a chance to product test them for you yet (stay tuned as we put the new, cutting-edge men's Racer bibs through their paces), I can show you why these kits promise to revolutionize the way you think about women's jerseys and shorts.
The 33 Aero Jersey Specs:
As I said, the new Anna Meares line offers great tech for women at all levels. Whether you're a recreational rider or an elite racer, the collection has something for you. I took a close look at 33 Aero jersey and bibs, and the detail is deliberate. Designed to be incredibly aerodynamic yet still comfortable, the 33 Aero jersey offers a close fit without constricting you.
Santini achieves this security with elasticated bands–think tiny bubbles that grip at the arm and waist openings to prevent them from riding up, which means both a low profile to the wind, and freedom of movement for you. The waist band uses these elasticated grippers from the side panels and around to the back, leaving the front completely void of grip, but holding tight to keep you covered in even the most aggressive tuck position.
The back of the jersey has three pockets with an extra zippered pocket in the center and reflective logo and piping. If you notice what look like dots on the above jersey back, these are actually circular cutouts in the outer layer of fabric that keep moisture and heat wicking away from you. Called the BCOOL back panel (also extended into the side of the bib shorts), this is an individual panel that moves independently of the under fabric to enhance breathability and keep you dry.
Made of Resistex Bioceramic thread (remember that name to impress your friends when you pedal up in this ultra-tech kit), the UV-resistent fabric actually promotes bloodflow in your smallest vessels: stimulating microcirculation. What does that mean? Better bloodflow, better performance, period.
33 Aero Bibs
The matching 33 Aero bib shorts carry the features through from the jersey with the same elasticated grippers at the the thighs, and BCOOL side panels. In the bibs, you'll find the Thunderbike Power lycra fabric that reduces muscle fatigue and sits like a second skin. Perhaps the most fun part of these bibs is the leopard print accent that lets you feel secretly stylin' while still looking sleek and put together on on the road.
The chamois? Well, it has a gel core with tiny, raised circles that act as bloodflow promoters as well, meaning that they help to prevent numbness while keeping you feeling fresh and dry even on the longest rides. Called the GIL2 chamois, this one may end being your go-to short for every distance and every ride.
Available in two colors, both pictured, this kit shows some serious promise for racers as well as long-distance riders.
More of the Anna Meares Signature Collection
That was an overview of the more race-geared kit, but Santini SMS is also bringing you the Mearsey and Anna kits for even the most relaxed of recreational riders. The best news, all of these kits are designed with the visibility, performance, comfort and style that should appeal to every level rider. Also, the detailing and design are modeled after the contours of the track–a special shout-out to Meares and her legacy.
With a wider selection than I have space to show you here, Santini SMS is really taking care of we women at every level of the new collection. Of course, they also have some fantastic men's kits, which my product tester (alas, these Racer bibs do not fit me) will soon take through their paces in a full review. We'll also be talking the new 3/4 length sleeves available in aero kits. Yup, you read that right.
So, ladies, what do you think? Will a portion (or maybe even all) of this collection soon make its way to your closet?

Read more about the Anna Meares Signature Collection at the Santini SMS website.