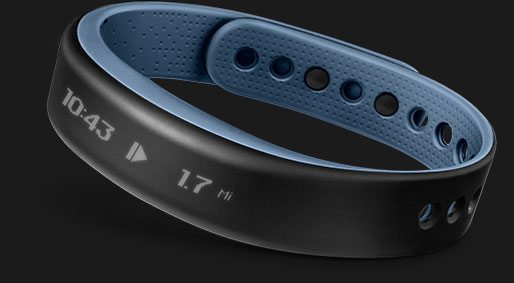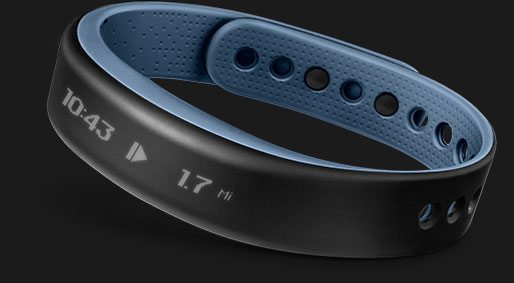 While milling around the Garmin booth at Interbike, I mistakenly zeroed my attention toward the Edge 1000, and the spiffy, budget conscious power meters. That is, until the kind folks at Garmin reminded me of their new Vivosmart fitness band. I was able to play around with it a bit, and noticed that Garmin is on to something a step above the usual sport band.
Why is this so cool? Sure it's got all the life fitness capabilities that you've seen on other bands and in the Garmin Vivofit, but now it's totally connected to your smart phone. I know, right?
Imagine you're on a ride, phone in a jersey pocket, and the ringer is drowned out by road noise or traffic, the Garmin Vivosmart gives you notifications right on the band via the bluetooth connection. You can read texts, look at who's calling, and see who just sent you that email. If it's important, you can stop your ride, run, or swim (yup, it's water resistant) and respond. The vibration alerts let you know what's up, and the touchscreen wakes itself when there's something important to see. Oh, and you'll also be able to control your music straight from the band.
Battery life, according to Garmin, is around 7 days before it needs a recharge: pretty decent when you consider that you can use this band 24 hours per day. Just like other bands, it monitors your sleep patterns, so you can track your recovery, rest, and sleep movement–oh, and it will also wake you up with the alarm vibration feature. I feel like there's a huge sleepwalking market Garmin's missing out on here.
Automatically synch it to your MyFitnessPal app and the Garmin Connect community to earn yourself badges and follow the goals it sets for you to urge you toward bigger, better, smarter fitness. You'll also get the expected HRM (in the $200 version), step counter, move bar, calories burned, and the things you've come to expect from fitness bands. Yes, it totally tells you when you're just sittin' around too much. A "gentle" reminder urges you to get up and walk around.
The kind people at Garmin have promised to send over a band to put it through its paces, so I can offer you a full review of its connectivity and usability for triathletes and cyclists. So get excited! You'll be able to get all the functionality details right here. Of course, you can also get it now from Best Buy for $170 ($200 with HRM) or wait until November to buy it from other retailers.
With 5 cool colors, there should be something for everyone here. Watch a short video, and get more specifics from Garmin by clicking here.