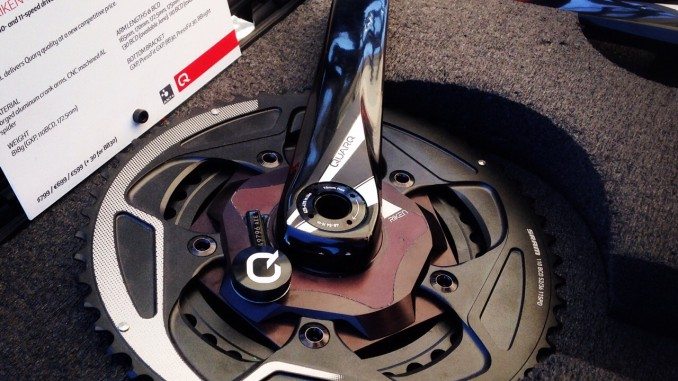 We've just finished up the dusty, 25th anniversary of the enigmatic racing and crazy awesome expo that is the Sea Otter Classic. The sights, sounds, and giveaways flow here with booths tossing socks from their roofs and Cadel Evans meandering through the crowds. We've seen a lot of cool gear to share with you over the next day or two. Some of it is fresh off the line, and some of it is our first look at it in person. Either way, it's all enough to get us stoked about summer . . . and foregoing a few lunches here and there to save up for some new additions to the kit. 😉
Quarq Riken AL Power Meters

A slew of new features were on display this weekend for the first time from Quarq. One of the biggest names in Power Meters will soon be one of the more attainable names with the Riken AL offering double side power at just $799. We're going to talk in-depth on the new range here shortly, so stay tuned for all the serious details. But these new power meters (along with price cuts to other parts of the Quarq line) allow you to keep your existing pedals, offer balanced measurements, and keep you up to date on all the new firmware advancements. Don't worry, we'll go through all the new features like temperature compensation, magnet-free operation, upgradeable firmware (as mentioned above), auto zeroing, and feature-filled compatibility for even the most budget-conscious cyclist. Quarq seems to be hitting the sweet spot these days, and they're definitely worth a close look when you're weighing your options (maybe that could work as a pun, yah?).
Specialized's Women's SL Pro Bib Short with Hookup
The people at Specialized will forever now be known as geniuses in my book. Not just because they make great gear, but because they decided to advertise in a bathroom stall. What did they do? Offer a simple hook for your jersey and tell you that if you were wearing their new Hookup bib shorts, you wouldn't need said hook for your jersey. Yes, one little magnet is all it takes to let you enjoy the great fit and competitive advantage that bibs offer while still allowing you to easily take care of business. Simply pop the snap at the back (you can barely see the little black clasp just below the mannequin's bra line in the picture to the right) and avoid having to pull off any straps or other pieces of your kit. Plus, they come in several color options, and sport features like fold-over leg cuffs (no sausage legs, ladies) and the SL Pro chamois, among other things. Although at $180, these might be a bit out of your budget, we think they're definitely worth looking into before you buy your next kit.
These crazy versatile and relatively inexpensive mounts caught our eye this year. With just $20 to get you started on the system, and just $10 per add-on (we're simplifying it a bit there, but you get the general pricing model), you can add a heads-up display for plenty of products out there on the market. But not just one or two . . . like a bunch at a time. The cool little mounting arm allows you to pick and choose the add-ons that work with your own specific gadgets to mount your GoPro or Virb underneath your Garmin or phone case. Pretty much any combo flies. You've gotta check these out. We hope to get a chance to take them for a ride too in the near future–more info on the horizon.
Aero, vented, and comfy, Mavic's new helmets weigh just about 250 grams and boast 28 cooling cutouts. We saw lots of helmets (and discounts abounded), but something about the distinct look and ultra-padded feel of the CXR made us stop and count the cash in our wallets. 3-position retention system and looks that hearken back to the classics of yesteryear, we think plenty will be willing to pay the $220 for its aero benefits.
KMC's X10 and 11 SL/DLC Chains
KMC's colorful chains (OK, our quickly snapped photos fail to do it justice) not only match your bike to perfection . . . yes, I'm already picturing that red and black beauty on my Cervelo R3 . . . but they'll also last you a while. Like 9,000 miles of a while. Super durable, compatible with both 11 speed and beyond, KMC has some serious reasons why you should invest some money in their spiffy chains. At just 243 grams and with advanced durability, these chains should make you seriously consider dropping $90-140 on one.
What do you think? These are a fraction of what we gawked at over the weekend, but there's plenty more to come. Too bad we emptied our pockets on gasoline, hotels, and race fees or all this stuff would have made the trip home with us too. Here's hoping we get the chance to try all this awesome tech here in the near future and give you the straight scoop on what to add to your kit.