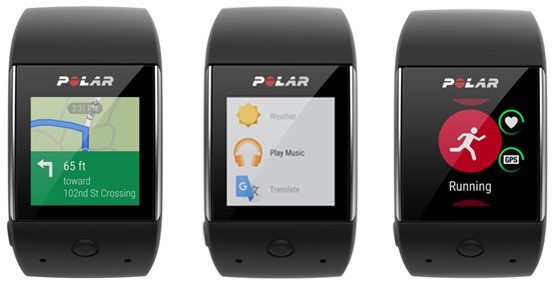 Available later this year, Polar adds to its line of smart watches with the M600. We think it's got the style to wear all day with the features to let you jump straight into workout mode (why else are you wearing moisture-wicking clothes to work every day?). No heart rate strap needed, and plenty of features for cyclists and triathletes alike, we think Polar's made some smart moves here (ok, yah, sorry about that pun). We're keeping our eye on this one, so be sure to let us know what you think . . . read on for all the details.
About the Polar M600
Polar announces the Polar M600, a waterproof sports watch powered by Android Wear. Built on Google's Android Wear smartwatch platform, Polar M600 features Polar's proprietary optical heart rate technology and provides wrist-based heart rate measurement via a 6-LED solution, using an algorithm designed and tested for maximum reliability. Polar M600 also provides integrated GPS, 24/7 activity tracking and Polar Smart Coaching features via the Polar App for Android Wear.
Designed for active training and as an accessory for a connected lifestyle, the Polar M600 is waterproof and boasts a high quality, sleek design with a 1.3 inch color touch display, a dedicated front button for quick and easy training control, and a claimed battery life of more than 48 hours when connected to Android devices. The soft silicone wristband is available in black and white, with a new red band coming later this year.
Connectivity & Coolness Factor
Pairing the evolving world of Android Wear with Polar's training expertise gives you access to Polar's Smart Coaching features such as Activity Guide, as well as Android Wear capabilities. In addition to training and insight into daily activity and workouts, users can access Android Wear's voice control, customize watch faces, receive calendar notifications, read and reply to texts when using an Android phone, scroll through social media feeds and access more than 4,000 third party apps via Google Play. Polar M600 offers 4 Gb of internal storage and customers can sync their music through Google Play and listen to it also without their smartphone (yah, we like this).
Polar Flow allows users to view their activity, heart rate training and sleep details via the iOS and Android apps, and the web services offer even more in-depth insights into their fitness, recovery and progress. Polar M600 users can also benefit from the new Polar Running Program, a personalized and adaptive training plan, available now for free in Polar Flow. Runners choose an event (5K, 10K, half-marathon or marathon), and the Running Program creates a training plan that fits their current fitness level, adapts to their progress and offers easy-to-follow instructions that help runners focus on what's important for improvement.
*Note: Android Wear is a trademark of Google Inc
Key Polar M600 Features
Waterproof and features integrated GPS
6-LED optical heart rate measurement featuring Polar's proprietary OHR technology
Smart Coaching features such as Running Index, Activity Guide, Activity Benefit, Smart Calories, Heart Rate, Training Benefit, Sport Profiles, and Running Program
Android Wear: access voice control, customize watch faces, receive calendar notifications, read and reply to texts with Android phones, scroll through social media feeds and access more than 4,000 third party apps via Google Play
Sync music through Google Play and listen to it without your smartphone
Battery life offers up to 10 hours of training time and two days of usage time
Made to be worn 24/7: tracks activity, sleep, steps, calories, and provides inactivity alerts
Polar Flowapp and web service provides motivational feedback, practical advice on running performance and progress
Polar M600 will be available globally in Charcoal Black and Powder White for $329.90 / €349.90 later this year. Changeable wristbands in Polar Red will also be available later this year.