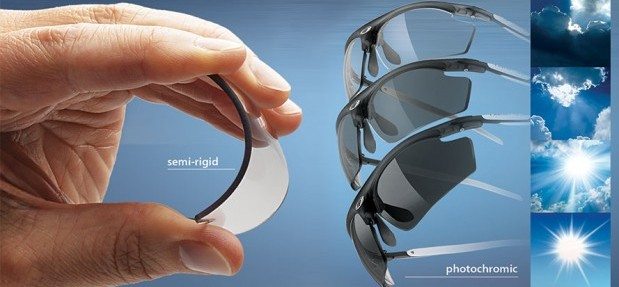 If you're a fan of seeing, and I figure many of you are, you'll be excited to learn that Rudy Project has just released its update to the Impact-X unbreakable lens. Unveiled at Interbike last September, the ImpactX-2 promises improved photochromatic particles that offer faster color transitions and better contrast. What's more, this lens is touted as totally unbreakable and able to not only transition into black, but into multiple colors.
Heck Yah, Colors
You know the old school transitioning lenses that go from clear to black in the sunlight–they're pretty handy when you don't want to buy multiple pairs of sunglasses for different light conditions. But they didn't really offer the full range of colors that might help you on, say, a cloudy day. And if you need prescription lenses, it's pretty expensive to get extra colors to swap out on your frames.
Now you can have it all. According to the folks at Rudy Project, you'll soon be able to get the ImpactX-2 in five different color transitions from clear to black, laser black, red, laser red, and laser brown. No matter what the light condition, the ImpactX-2 will keep you from squinting. Well, unless you need to have a long talk with your eye doctor.
Fast Photochromatics
If you've been frustrated with photochromatic lenses in the past because they don't work all the time, say when you're driving, the ImpactX-2 will activate the color change within seconds and even behind UV screened surfaces like your car windshield. Yep, you can now use these beauties on any type of morning or evening commute: by bike or by car.
This second generation of the ImpactX also activates 25% faster than the original version. Plus they have a fancy shmancy High Dynamic Range (HDR™) filter that, according to Rudy Project, "eliminates a portion of light not seen by our eyes. This technology modulates the wavelength of light passing through the lens and optimizes its spectrum for extraordinary visual performance. A maximized chromatic range provides superior perception, sharp imagery, and eye popping lens clarity."
Lens Choices and RX Options
As I mentioned before, the ImpactX-2 comes in five colors, which are generally suited for different activities:
Clear to Black and Clear to Laser Black are considered "All-Around Lenses" because they're suitable for variable weather and terrain/climates. If you like to participate in a variety of sports and outdoor activities, these are probably your best bet.
Clear to Red and Clear to Laser Red are the "Racing Red Series," which are best used in fast action sports and offer "maximum stimulating color contrast."
Clear to Laser Brown are the long-wear lenses that are easier on your eyes and stay comfortable for activities that take up your whole day.
If you're like me, and you're petrified at the thought of touching your eyeball with contact lenses (it's a long story that involves profuse eye-watering), the ImpactX-2 can use Rudy Project's FreeForm TEK™ digital backside surfacing. Basically, they can put the prescription to the back of the lens, which completely covers the lens from edge to edge. This also means they can do progressive lenses, no-line Bi-focals, or cheater lenses fit exactly to you. And you'll be seeing where you're going in no time.
Get Some for Yourself

The ImpactX-2 will be available in several sunglass models, including the Proflow, Agon, and Rydon. If you're stoked to get some for yourself, head over to www.e-rudy.com and see which are available. Of course, you can also pick some up at your local bike shop or eyewear retailer. If you do, be sure to head back over here and let me know what you think!