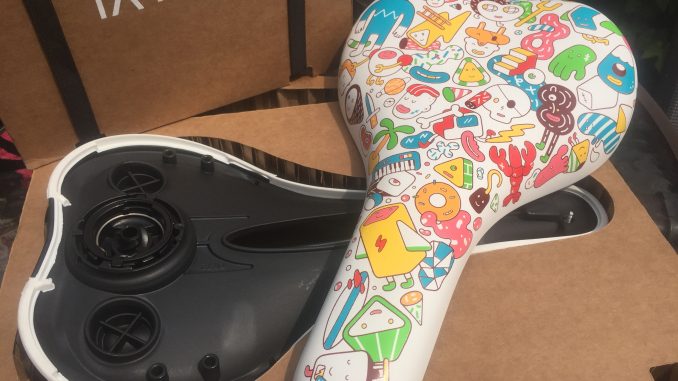 ---
Win a TA+TOO! For Your Bike
Hey! The contest is over, and our friends at Selle Royal hooked up one lucky reader's bike with a limited edition (number 5 of 100, to be exact), Travel Collection saddle! And the winner is . . . 
JULIA B.
Congrats, Julia! Be sure to respond to the email we've sent you to claim your prize. If you're not Julia, we've got a great giveaway planned for you coming up. Make sure to stick with us for another chance to win cool gear.
Special thanks to Selle Royal who sponsored this giveaway. Check out their website for more info on the TA+TOO and more.
---
TA+TOO The Travel Collection Review
Cool, according to the dictionary means, "interchangeable and prevents theft." OK, not really. I have no clue what the dictionary thinks about the word "cool." But that's my go-to descriptor for Selle Royal's new TA+TOO saddles. Here are the specs:
Prices: This saddle sells as a whole for about $99 (conversion from euros done for you here), but you can buy pieces separately. Only 100 of each of the Travel Collections are available.
$50 (approx) Limited edition Travel Collection upper by Brosmind (shown), Van Orton, or Hikimi
$39 (approx) Chrome Tops in 12 different color combos
$39 (approx) Saddle base in black or white
$11 (approx) Optional handle in black or white
|| Grab your own at Selle Royal's site ||
Upsides: Does what it says and allows you to personalize your saddle just like you'd personalize yourself with a Tattoo (ah, clever!). Tons of color options means you can buy a couple of uppers without having to buy an entirely new saddle–and this one is pretty comfortable as an all-around commuter. The removable upper is an ingenious idea for people who lock their bike up outside and don't want to see their saddle go missing–a simple twist, and you can pop half the saddle off to take with you. Seriously fantastic design.
Downsides: At first, the mechanism of the lock key was a little stiff. With a little time playing with the saddle, we found it easy to remove the upper, but it takes some effort at first. You'll definitely want to understand how it works before trying to park it in a hurry and unclip it.
The Review
Built around the idea that riders want the ability to personalize their bikes–and then personalize them again–the name TA+TOO implies that you can put your own customized spin on your bike (much like a tattoo on your body, but with way less commitment). Since the top of the saddle pops off, you can swap out colors with a pretty easy twist of the disc insert under the saddle. The two halves split, and you simply click in a different upper when you want it.
There are a few reasons we really, really like this design. First, the obvious deals with the ability to replace the cushion portion of your saddle when it gets too worn/beat up, or you just get tired of the color. Also, we're pretty sure no one's going to want to steal just the bottom half of the seat. We also like that the design allows for stowing some emergency cash or something similar–while this wasn't necessarily intended by the folks at Selle Royal, it definitely works.
Comfort-wise, this saddle is pretty cushy, and I didn't feel the need to wear padded shorts or anything special when testing it out. Work clothes, jeans, yoga pants, you're good to go on this saddle. The shape should also accommodate a wide variety of riders. If, however, you like a more minimalist saddle without so much cushion, you might want to look elsewhere in the Selle Royal family of seats. But, while this does offer a high smoosh (technical term) factor, it doesn't look nearly as bulky as other saddles that are built to appeal to riders who want a cushier place to sit.
More Info on the Limited Edition
The saddle we tested is part of the pretty cool, very artsy Travel Collection designed by three renowned artists: Brosmind, Van Orton, and Hikimi. Selle Royal's Monica Savio describes the idea behind the creation of the collection: "Travel is not just seeing new lands, it's having new perspectives and point of views. It's a state of mind, a matter of curiosity, spirit and enthusiasm. This is exactly what happens when you choose your bike: this collection is for people with a desire to explore the world. The interchangeable saddle means riders are not restricted to one design, they are free to change as they travel." Those ideas seem to fit the practical design of the TA+TOO pretty well. Because, let's face it, we all like to personalize our bikes–it makes them more fun to stare at longingly while they're leaned up against a wall.
The Verdict
Overall, the versatility and coolness factor of this saddle push it above the rest. At $99 (converted from euros), it's still relatively inexpensive when you consider that you can replace the upper for around $40–meaning that the longevity could be seriously impressive. Plus, the ability to swap colors means you can match just about any bike on the cheap. Add to that the theft-deterrent component and the weather-proof make-up, and you've got a real winner here.
For more info, check out Selle Royal's website.