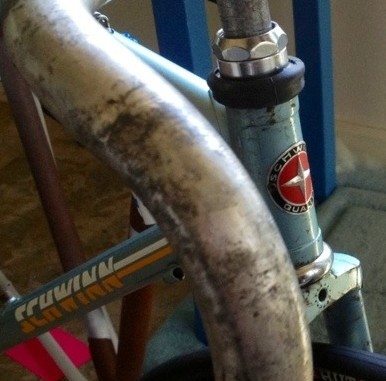 A commuter bike, beater bike, single speed, hipster fixie–in reality, a cheap build. I scoffed. Yes, I scoffed, at my husband when he suggested we build bikes for commuting around town. What did I need with a lousy 70s bike when I have a super light, high end, really fast racing bike in the spare room?
That's the reason. I'm a bike snob. If it wasn't the best and coolest, I didn't give it a chance.
But something happened to me when I found the little Schwinn World Sport frame in front of the SLO Bike Kitchen. My bike grinch heart grew 10 sizes that day. So now I'm on a mission to help all bike grinches heal from their small bike hearts–and here's why.
Build a Beater Bike Because:
1. It's Cheap
Flying in the face of all we racing cyclists hold dear, beater bikes use low-end (or old high end), used, de-rusted, and spare components. You don't want to put much money into a bike that you only pedal around a mile or two, and leave locked up outside the office or grocery store. Restoring rusty parts, sawing the ends off a cheap pair of drop bars to make bull-horns, and digging around in a bin for a steel seat post sets you free. You don't want to find Dura Ace levers because they're too fancy for your beater bike, too light for an old steel frame, and not worth the expense. There's just something cool about digging up those old strap pedals you took off your fancy road bike and putting then on your old beater bike–without fear of being labeled a Fred.
2. It's Serious Fun
If you've never built a bike before, you don't quite know the addictive quality that fitting, sanding, and bolting on your own hand-chosen parts can take on. You get to pick the exact looks you want–black, white, silver components. Or heck, you can spray paint whatever color you want onto any part you want (ok actually, don't spray paint your brake pads because you want purple ones. Within reason, folks). With a little painter's tape and some sanding, you can custom paint an old frame to keep rust away, and play up your bike's personality.
3. You'll Learn to Wrench
There's not a much better way to learn how bikes work than by taking them apart and putting them back together. While you can do a great deal on your own with sites like Park Tool and YouTube helping out. If you're local to SLO, the Bike Kitchen not only offers low-cost frames and parts, but for a simple $5 donation you will be taught exactly how to build your bike by top-level mechanics with top-level tools. I highly recommend visiting the Bike Kitchen, or finding one near you (you might search for "bike recyclery" as well).
Building up an old bike reminded me why I love cycling so much. The diversity of components, the choice in bike styles, and the freedom of rolling down the road is unmatched. It's just plain fun–especially when you're not so worried about how many watts you're laying down on an 8% incline (although that can be fun too).
Here's my old Schwinn in progress: